Panzerkampfwagen III Medium Tank
Le Panzerkampfwagen III Ausf.A fait son apparition en 1936. Conçu par Daimler-Benz, il comportait une suspension dotée de 5 double-galets (sur barres de torsion) , un barbotin avant, une poulie de tension et deux rouleaux porteurs. Son moteur était un 12 cylindres Maybach 180TR développant 250CV et sa transmission comportait 6 vitesses et 1 marche arrière. Le Panzer III Ausf.A pesait 15.4 tonnes. Ce poids plutôt faible s'expliquait par la faible épaisseur du blindage (15 mm) prévu seulement pour protéger le char contre les projectiles perforants des armes antichar légères (14-20 mm). Ces restrictions de poids venaient du fait que la suspension convenait mieux à un véhicule commercial qu'à un char de combat.
Panzerkampfwagen III Ausf.A makes its appearance in 1936. Conceived by Daimler-Benz, it comprised a suspension equipped with 5 double-road wheels (on torsion bars), a front sprocket-wheel, a idler and two return rollers. Its engine was one 12 cylinders Maybach 180TR developing 250hp and its transmission comprised 6 forward speeds and 1 reverse speed. Panzer III Ausf.A weighed 15.4 tons. This rather weak weight was explained by the low thickness of the shielding (15 mm) envisaged only to protect the tank against the armor piercing projectiles from the light anti-tank weapons (14-20 mm). These restrictions of weight came owing to the fact that the suspension was appropriate better for a commercial vehicle that for a tank.
Son armement était composé du 37mm KwK L/45 monté co-axiallement avec deux mitrailleuses de 7.92mm sur un manteau interne vulnérable aux ricochets des balles ennemies. Pour compléter son armement une troisième mitrailleuse de 7.92mm était montée sur rotule sur la plaque frontale de la superstructure. Le commandant disposait d'une coupole assez primitive dont les portes montées sur charnières s'ouvraient sur les côtés.
Au niveau assemblage, la caisse et la superstructure étaient boulonnées entre-elles et donc facilement séparables pour rendre plus facile les réparations et la maintenance. La tourelle avait une forme similaire à celle du Panzer IV mais plus petite avec un circulaire de tourelle de 1.52 m de diamètre. Ce diamètre assez étroit mis un terme à la carrière du Panzer III comme char de bataille standard quand le besoin de canons plus lourds se fit sentir en 1943, car leur installation sur le Panzer III était impossible. Néanmoins l'espace à l'intérieur était suffisant pour que l'équipage puisse effectuer son travail avec un assez bon comfort. Le Panzer III Ausf.A était un char de développement et d'essai et ne fut en conséquence produit qu'à 10 exemplaires seulement.
Its armament was composed of the 37mm KwK L/45 coaxially assembled with two machine-guns of 7.92mm on an internal mantlet vulnerable to the rebounds of the enemy balls. To supplement its armament a third machine-gun of 7.92mm was assembled on ball mount on the frontal plate of the superstructure. The commander had a rather primitive cupola whose doors assembled on hinges opened on the sides.
On the level assembly, the hull and the superstructure were bolted together and easily separable to make easier repairs and maintenance. The turret had a form similar with that of Panzer IV but smaller with a circular of turret with a 1.52 m diameter. This rather narrow diameter put a term at the career of Panzer III as standard battle tank when the need for heavier guns was felt in 1943, because their installation on Panzer III was impossible. Nevertheless space inside was sufficient so that the crew can carry out his work with a rather good comfort. Panzer III Ausf.A was a development and trial test tank and in consequence was produced only with 10 specimens.
Le Panzerkampfwagen III Ausf.B fut le premier essai afin de résoudre le problème de la suspension rencontré sur le A. Ce modèle utilise une suspension expérimentale comprenant 8 petits galets suspendus à deux groupes à ressorts à lames horizontaux. Le nombre de rouleaux porteurs fut poussé à trois. Cette nouvelle suspension fit passé le poids de l'engin à 15.9 tonnes mais permit d'augmenter la vitesse de pointe à 40km/h. Notons que ce châssis servira de base au prototype de Sturmgeschütz III. Quinze exemplaires de ce modèle furent produits par Daimler-Benz.
Panzerkampfwagen III Ausf.B was the first test in order to solve the problem of the suspension encountered on the A. This model uses an experimental suspension including 8 small suspended road wheels with two bogies with horizontal leaf springs. The number of return rollers was now of three. This new suspension made last the weight of the machine to 15.9 tons but made it possible to increase the maximum speed to 40km/h. Let us note that this chassis will be used as a basis for the prototype of Sturmgeschütz III. Fifteen specimens of this model were produced by Daimler-Benz.
Panzerkampfwagen III Ausf.B

src: Pz.Kpfw III in action, Armor Number 24 (squadron/signal publications, inc.)
Le Panzerkampfwagen III Ausf.C était identique au B mais utilisait pour sa suspension trois groupes à lames de ressorts horizontales (un large au milieu et deux petits de chaque côté). Comme pour le modèle B, 15 exemplaires de ce modèle furent produits par Daimler-Benz.
Panzerkampfwagen III Ausf.C was identical to B but used for its suspension three bogies with horizontal spring leaves (broad to the middle and two small on each side). As for the model B, 15 specimens of this model were produced by Daimler-Benz.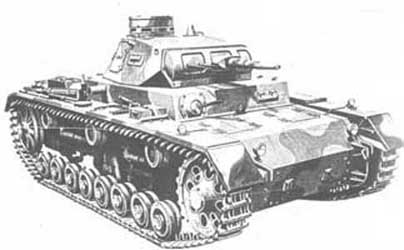 Panzerkampfwagen III Ausf.C
src:Connaissance de l'Histoire (Hachette) - N°17
" Les chars de combat allemands 39-45"
Le Panzerkampfwagen III Ausf.D fit son apparition en 1938. Utilisant la même suspension que le C il possédait cependant un blindage maximum de 30mm et une nouvelle coupole de commandant. Le poids de l'engin était de 19 tonnes. Une nouvelle transmission plus performante possédant une vitesse supplémentaire permit tout de même de maintenir la vitesse de pointe. L'Ausf.D transportait 120 coups de 37mm et 4.425 cartouches de 7.92mm. Trente exemplaires furent produits par Daimler-Benz.
Panzerkampfwagen III Ausf.D made its appearance in 1938. Using the same suspension that C, it however had a maximum shielding of 30mm and a new cupola of commander. The weight of the machine was 19 tons. A new more powerful transmission having an additional speed made it possible to maintain the maximum speed. Ausf.D transported 120 rounds of 37mm and 4.425 rounds of 7.92mm. Thirty specimens were produced by Daimler-Benz.
Les Panzers III A/B/C/D étaient tous des chars de développement et n'étaient pas encore prêts pour assumer le rôle de char de combat standard des Panzerdivisions. Ils furent donc vite retiré du service à la mi 1940.
Panzers III A/B/C/D were all development tanks and were not yet ready to assume the role of standard battle tank of Panzerdivisions. They were thus quickly withdrawn from the service at mid 1940.
Le Panzerkampfwagen III Ausf.E fait son apparition en 1938 et met fin aux essais de suspensions par l'adoption d'un robuste système de barres de torsion équipé de 2 x 6 petits galets (doubles), développée par Ferdinand Porsche. Le Panzer III fut le premier véhicule à être équipé avec succès de ce type de suspension. Avec le Panzer II Ausf.E on arrive à la configuration finale du Panzer III. Les autres versions n'apporteront que des changements mineurs destinés à améliorer le blindage et l'armement du véhicule. Les 6 barres de torsion étaient montées sur le plancher de la caisse et étaient ainsi à l'abris. La suspension était complétée par 2 x trois rouleaux porteurs . Le moteur des premiers Panzers III fut remplacé par un Maybach HL 120TR développant 300 cv et une transmission Maybach Variorex (pré-sélecteur) à 10 vitesses en marche avant et 4 vitesses en marche arrière. Ces changements donnèrent au char un poids de 20 tonnes et une vitesse de pointe de 40km/h.
The Panzerkampfwagen III Ausf.E does its apparition in 1938 and puts an end to the essays of suspensions by the adoption of a sturdy system of torsion bars equipped of 2x 6 small road wheels (double), developed by Ferdinand Porsche. The Panzer III was the first vehicle to be equipped with successes with this suspension type. With the Panzer II Ausf.E one arrives to the final configuration of the Panzer III. The other versions will bring only changes minors destined to improve armor protection and armament of the vehicle. The 6 torsion bars had brought up on the floor of the hull and were thus under cover. The suspension was completed by 2 x three return rollers. The engine of the first Panzers III was replaced by a Maybach HL 120TR developing 300 hp and a transmission Maybach Variorex (pre-selector) with 10 forward speeds and 4 reverse speeds. These changes gave to the tank a weight of 20 tons and a maximum speed of 40km/h.
Le blindage était de 30 mm pour le pourtour de la tourelle et sur les parties verticales avant et latérales de la caisse et de 16 à 21 mm sur les parties verticales arrière de la caisse. Le simple clapet blindé du viseur du pilote fut remplacé par deux volets blindés coulissant verticalement. Sur la tourelle les portes latérales "une pièce" furent remplacées par des portes à deux volets, équipés de sabords de tir et de vision. Deux sabords de communication visuelle furent installés sur le toit de la tourelle. Celui de gauche était équipé d'un cône blindé avec ampoule. Cet équipement fut supprimé sur les derniers modèles.
Sur les premiers engins de la série la double MG34 coaxiale fut maintenue, la disposition standard utilise une seule MG34 coaxiale. Le masque du canon est toujours interne. Le canon de production est toujours le 37mm KwK L/45 même si les modèles de cette série seront réarmés ultérieurement avec le 50mm KwK L/42 avec un bouclier externe. Deux portes d'accès sur les côtés du bas de caisse seront installées entre le premier et le deuxième rouleaux porteurs (quoique absent des premiers modèles). Avec le modèle E, la production du Panzer III prend petit à petit de l'importance avec 96 exemplaires produits en 1939 par Daimler-Benz, Henschel et MAN.
Armor plating was of 30 mm for the around the tourelle and on the vertical frontal and lateral plates of the hull and of 16 to 21 mm on the rear vertical platesof the hull. The simple armored clap of the driver's visor was replaced by two armored shutters vertically sliding. On the turretl original "1-piece" side doors were replaced by side doors with two shutters, equipped shooting and vision ports. Two singal portsl were installed on the roof of the turret. The one left was equipped of an armored cone with light. This equipment was eliminated on the last models.
Double-doors were installed on the sides of the turret. If on the first machines of the series, the double coaxial MG34 were maintained, the standard mount uses only one coaxial MG34. The mantlet of the gun is always internal. The gun of production is always the 37mm KwK L/45 even if the models of this series will be rearmed later with the 50mm KwK L/42 on an external mantlet. Two access doors on the sides of the lower hull will be installed between the first and the second return rollers (though absent from the first models). With the model E, the production of Panzer III gradually takes importance with 96 specimens produced in 1939 by Daimler-Benz, Henschel and MAN.
Le Panzerkampfwagen III Ausf.F fait également son apparition en 1939 comme le modèle E. Au départ le Panzer III Ausf.F était armé avec le canon de 37mm L/45 et deux MG34 montées sur un bouclier interne. Cependant les 100 derniers exemplaires seront équipés du 50 mm KwK 38 L/42 et d'une seule mitrailleuse coaxiale sur masque externe. Des couvercles blindées pour les prises d'air de refroidissement de la transmission et de la commande finale furent montés sur le nez de la caisse supérieur. Le Panzer III Ausf.F fut équipé d'une version améliorée du HL 120 TR, le HL 120 TRM.
The Panzerkampfwagen III Ausf.F does equally its apparition in 1939 as the model E. At the start the Panzer III Ausf.F was armed with the canon of 37mm L/45 and two MG34 mounted on an internal mantlet. Nevertheless the 100 last specimens will be equipped of the 50 mm KwK 38 L/42 and an alone coaxial machine gun on external mantlet. Armored covers on the upper hull nose for the transmission and final drive gear cooling air intakes were mounted. The Panzer III Ausf.F were equipped of an improved version of the HL 120 TR, the HL 120 TRM.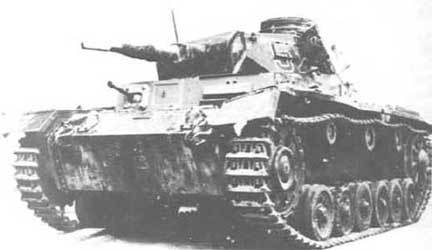 Panzerkampfwagen III Ausf.F
Durant la production du Panzer III Ausf.F (et Ausf.E), des couvercles blindés pour les prises d'air du moteur furent ajoutés, ce qui rendit impossible la distinction entre les derniers Panzer III Ausf.E et Ausf.F. Un total de 435 Panzers III Ausf.F fut produit par Daimler-Benz, Henschel, MAN, Alkett and FAMO between September 1939 and July 1940.
During the production of the Panzer III Ausf.F (also Ausf.E), armored covers for the engine air intakes were added, that have made it nearly impossible to distinguish between late Panzers III Ausf.E and Ausf.F. A total of 435 Panzers III Ausf.F was produced by daimler-benz, Henschel, MAN, Alkett and FAMO between September 1939 and July 1940.


Sources:
Pz.Kpfw III in action, Armor Number 24 (squadron/signal publications, inc.)
Connaissance de l'Histoire (Hachette) - N°17 - " Les chars de combat allemands 39-45"
Connaissance de l'Histoire (Hachette) - N°5 - " Véhicules blindés allemands 39-45"
Les Blindés de la Seconde Guerre Mondiale (Atlas)
Panzerkampfwagen III Medium Tank 1936-1944 (Osprey Military) - New Vanguard N°27
Site "Achtung Panzer" - http://www.achtungpanzer.com
Site "Germany's vehicle history" - http://www.wwiivehicles.com
Site "Second World War Armour" - http://www.onwar.com/tanks/index.htm