VK.3001(H) & VK.3001(P) Leopard Medium Tanks
VK.3001(H) / Pz.Kpfw VI Ausf.A
Le développement du DW 2 continua jusqu'à 1941, l'année où Henschel a reçu la commande d'une nouvelle conception plus avancée. Ce nouveau véhicule indiqué VK3001 (H) (Vollkettenkraftfahrzeug - véhicule expérimental chenillé de 30 tonnes, la première conception dans cette classe, construite par Henschel). Daimler-Benz, Porsche et MAN ont aussi reçu les contrats de développement pour les prototypes de cette même classe de chars. Le VK3001 (H) était l'ancêtre direct du tigre et était directement développé à partir du véhicule expérimental DW 2. La superstructure d'après la pratique allemande était composée de plaques de blindage verticales, soudées ou a vissées aux châssis et à la coque inférieure.
The development of the DW 2 continued until 1941, year when Henschel received a order for a new conception with a more advanced design. This new vehicle indicated VK3001 (H) (Vollkettenkraftfahrzeug - experimental completely tracked vehicle of 30 tons, first conception in this class, built by Henschel). Daimler-Benz, Porsche, and MAN also received contracts of development for prototypes of this same class of tanks. The VK30O1 (H) was the direct ancestor of the tiger, and was directly developed from the experimental vehicle DW 2. The superstructure following the German practice consisted of vertical armoured plates, welded or screwed to the chassis and in the lower hull.
La suspension consistait en sept axes, avec des roues sautant sur des barres de torsion, avec trois rouleaux de retour sur chaque côté. L'arme destinée d'abord pour ce char était le canon avec haute vitesse initiale L/48 de 75mm; cependant, l'apparition douloureuse du char Soviétique T-34 rendit cette arme démodée. En effet, le canon de 75mm ne pouvait paspercer l'armure de T-34. Deux châssis du VK3001 (H) ont été convertis pour l'artillerie autopropulsée (Selbstfahrlafette V "Sturer Emil") armé de 128 mm K L antichar et ont été envoyés en Russie où ils ont été employés avec succès. Parce qu'il était l'ancêtre direct du tigre, le VK.3001 (H) a été populairement appelé chez Henschel, "le kleiner tiger" (petit tigre).
The suspension consisted of seven axes, with inserted road wheels springing on torsion bars, with three return rollers on each side. The weapon intended at first for this tank was the cannon with high muzzle velocity L/48 of 75mm; however, the painful appearance of the Soviet tank T-34 returned thisweapon old-fashioned. Indeed, the cannon of 75mm could not drill the armor of T-34, so one decided of to arm the VK.3001 (H). Two chassis of the VK3001 (H) were converted in self-propelled artillery (Selbstfahrlafette V " Sturer Emil ") armed with the 128 mm K L antitank and were sent to Russia where they were used successfully. Because it was the direct ancestor of the tiger, the VK.3001 (H) was popularly mentioned at Henschel, " kleiner tiger " (little tiger).
VK 3001(H) Data

Weight
32 000 kg
Crew
5
Engine
Maybach HL 116, 6 cyl., 300 hp
Speed
20-25 km/h
Lenght
5.81 m
Width
3.16 m
Height
1.85 m
Armament
75 mm KwK 37 L/24 or 105 mm KwK L/28 & 2 x 7.92 mm MG 34
Armor
Front
Sides
Rear
Top/Belly
Lower hull

30mm/85°

50mm/90°

50mm/90°

20-35mm/0°

Upper hull

50mm/82°

30mm/90°

50mm/85.5°

25mm/0°

Turret

50 mm

50 mm

50 mm

?

Mantlet

?

-

-

-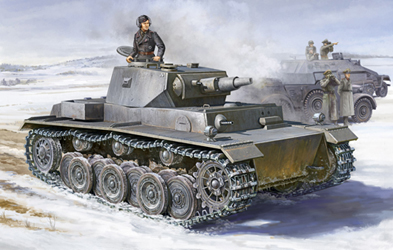 En 1937, Porsche comme Henschel reçut la commande d' un char moyen devant remplacer le Panzer IV. Ce nouveau modèle devait être armé avec le 75 mm KwK L/24 ou le 105 mm KwK L/28 et une MG 34 de 7.92 mm. Le design du VK 3001(P) fut finalisé le 5 septembre 1939. Porsche pensa tester divers armement comme le 105 mm KwK L/47, le 105 mm KWK L/52 ou le 88 mm KwK 36 L/56 sur une tourelle développée par Krupp. En fait six tourelle équipées avec le 88 mm KwK 36 L/56 furent commandées en avril 1941 mais aucune ne fut jamais produite. La tourelle du VK 3001(P) était similaire à celle du VL 4501(P) (ou Tiger(P)). Pour motoriser son prototype; Porsche pensa à une groupe essence-électrique (2 moteurs Porsche Typ 100 à refroidissement par air et une transmission électrique). Seulement deux prototypes sans tourelles furent complétés à l' usine Nibelungenwerke de St. Valentin (Autriche), en octobre 1941. Les deux prototypes avaient un bon comportement malgré des problèmes rencontrés au niveau de la propulsion et de la direction. Le VK 3001(P) pouvait atteindre les 60 km/h. Afin de résoudre les problèmes du moteur, Porsche dessina une moteur diesel, le Porsche Typ 200 qui ne fut cependant jamais réalisé.

In 1937, Porsche as Henschel accepted the ordering of a medium tank having to replace Panzer IV. This new model was to be armed with the 75 mm KwK L/24 or the 105 mm KwK L/28 and a MG 34 of 7.92 mm. The design of the VK 3001(P) was finalized on September 5, 1939. Porsche thought to test various armament like the 105 mm KwK L/47, 105 mm KWK L/52 or the 88 mm KwK 36 L/56 on a turret developed by Krupp. In fact six turret equipped with the 88 mm KwK 36 L/56 were ordered in April 1941 but none was never produced. The turret of the VK 3001(P) was similar with that of the VL 4501(P) (or Tiger(P)). To motorize its prototype; Porsche thought to a gasoline-electric group (2 engines Porsche Typ 100 with air cooling and an electric transmission). Only two prototypes without turrets were completed with the Nibelungenwerke factory at St Valentin (Austria), in October 1941. The two prototypes performed well in spite of problems encountered on the level of the propulsion and steering. The VK 3001(P) could reach the 60 km/h. In order to solve the problems of the engine, Porsche drew a diesel engine, Porsche Typ 200 who was however never realized.

Le projet VK 3001(P) fut finalement abandonné,malgré que les tests continuèrent jusqu' en mai 1942, mais les deux prototypes furent utilisés pour développer le VK 4501(P) dont le travail débuta en juillet 1941. Afin de transporter le VK 3001(P), Porsche dessina un transporteur spécial, le Panzertransporter Porsche 142 qui cependant ne vit jamais le jour.
Project VK 3001(P) was finally given up, although the tests continued until May 1942, but the two prototypes were used to develop the VK 4501(P) from which work began in July 1941. In order to transport the VK 3001(P), Porsche drew a special transporter, Panzertransporter Porsche 142 which however was born never.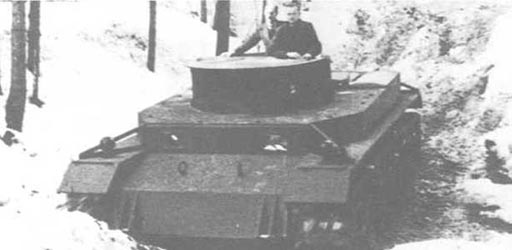 VK 3001(P) Data

Weight
30 000 kg
Crew
5
Engine
2 x Porsche Typ 100, 10 cyl., 210 hp
Speed
60 km/h
Lenght
6.58 m
Width
3.80 m
Height
3.05 m
Armament
105 mm KwK L/47-52 or 88 mm KwK 36 L/56 & 1 x 7.92 mm MG 34
Armor
Front
Sides
Rear
Top/Belly
Lower hull

75mm/70-45°

60mm/90°

40mm/80-58.5°

26mm/0°

Upper hull

75mm/75°

60mm/90°

?

26mm/0°

Turret

80 mm/68.5°

60mm/90°

60mm/90°

40mm/10-15°

Mantlet

80mm/90°

-

-

-
VK.8201
Ce projet de char moyen fait partie d'un programme de char sur rail, pouvant atteindre les 50-60 km/h, dont la production doit débuter en 1945. Trois firmes proposèrent leur projet: Daimler-Benz, Alkett et Krupp. Krupp, proposa pour son modèle standard un châssis mixte rail-chenille surmonté d'une tourelle (version simplifiée de celle du Panzer IV) armée d'un canon de 7.5cm long. Le train de roulement est composé de 6 galets, un barbotin avant et de chenilles de 80cm de large. En 1943, le projet dépasse de 5 tonnes, les 28 tonnes initialement prévues. Après l'étude de plusieurs motorisations (essence ou diesel) comme les moteurs Maybach HL 230 ou le Daimler-Benz MB 507, le programme fut abandonné en mai 1944 ... ne faisant pas partie des fabrications d'urgence.

This medium tank project is part of a rail-tank program, that can reach 50-60 km/h, whose production is to begin in 1945. Three firms proposed their project: Daimler-Benz, Alkett and Krupp. Krupp, proposed for its standard model a mixed rail-tracks chassis surmounted by a turret (simplified version of that of the Panzer IV) armed with a 7.5cm long gun. The running-gear consists of 6 road-wheels, a front sprocket and tracks 80cm wide. In 1943, the project exceeded 5 tons, the 28 tons originally planned. After the study of several engines (gasoline or diesel) such as Maybach HL 230 or Daimler-Benz MB 507 engines, the program was abandoned in May 1944 ... not part of the emergency manufacturing.

| | |
| --- | --- |
| | |
| VK.8201 with simplified panzer IV turret. | VK.8201 with 2cm Flakvierling |
| src: Paul Malmassari, Trucks & Tanks Magazine 2010 | src: Paul Malmassari, Trucks & Tanks Magazine 2010 |


Sources:
Tiger in action, Armor Number 27 (squadron/signal publications, inc.)
Trucks & Tanks Magazine 2010
Connaissance de l'Histoire (Hachette) - N°17 - " Les chars de combat allemands 39-45"
Les Blindés de la Seconde Guerre Mondiale (Atlas)
Tiger I Heavy Tank 1942-1945 (Osprey Military) - New Vanguard N°5
Site "Achtung Panzer" - http://www.achtungpanzer.com
Site "Germany's vehicle history" - http://www.wwiivehicles.com
Site "Second World War Armour" - http://www.onwar.com/tanks/index.htm