Panzerkampfwagen 38(t) Light Tank
Genesis
Dès le 15 mars 1939, après avoir annexé la Tchécoslovaquie, la Wehrmacht s'empara de tous les blindés disponibles dans l'armée tchèque ainsi que ceux en cours de production, comme le TNH-P. Les Allemands baptisèrent ce char, le Panzerkampfwagen 38(t) et en continuèrent la production jusqu'en 1942, époque où ce char léger était devenu obsolète. La fabrication sous responsabilité allemande fut poursuivie également par la firme Skoda. La firme CKD fut rebaptisée BMM (Bömisch-Mährische Maschinenfabrik AG).
As of March 15, 1939, after having annexed Czechoslovakia, Wehrmacht seized all the armoured tanks available in the Czech army like those in the course of production, as the TNH-P. The Germans baptized this tank, Panzerkampfwagen 38(t) and continued the production until 1942 of it, time when this light tank had become obsolete. Manufacture under German responsibility was also continued by the Skoda firm. Firm CKD was renamed BMM (Bömisch-Mährische Maschinenfabrik AG).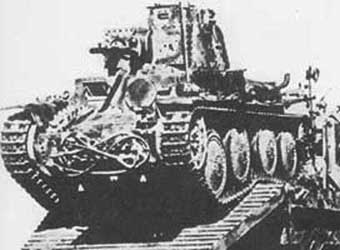 Pz.Kpfw 38(t)
Les Allemands exigèrent à l'origine une production mensuelle de 40 unités mais ce chiffre varia fortement en fonction de la disponibilité du matériel et du personnel. Un total de 1168 chars seront construits pour la Wehrmacht: 275 en 1940, 698 en 1941 et 195 en 1942. En 1940, 228 exemplaires équipaient les 7e et 8e Panzerdivisions. Le 1er juillet 1941, 793 mais en en avril 1942, seulement 522. Peu après leur main mise sur les firmes tchèques, les Allemands exigèrent un blindage avant de 50 mm et latéral de 30 mm. La conversion se faisait via des plaques supplémentaires à l'avant de 25 mm d'épaisseur, alors que le blindage latérale fut véritablement revu pour atteindre les 30 mm. Les chars qui furent équipés de ce blindage et du canon allemand de 37 mm pesait environ 11 tonnes (TNHP-S, S pour schwere = lourd).
The Germans required in the beginning a monthly production of 40 units but this figure strongly varied according to the availability of the material and the personnel. A total of 1168 tanks will be built for Wehrmacht: 275 in 1940, 698 in 1941 and 195 in 1942. In 1940, 228 specimens equipped 7th and 8th Panzerdivisions. July 1, 1941, 793 but in of April 1942, only 522. Little after their hand put on the Czech firms, the Germans required a frontal shielding of 50 mm and sides of 30 mm. Conversion was done via additional plates in front of 25 mm thickness, whereas the shielding side was truly re-examined to reach the 30 mm. The tanks which were equipped with this shielding and of the German gun of 37 mm weighed approximately 11 tons (TNHP-S, S for schwere = heavy).
Production

Model

Period

Quantity

Ausf.A

05/1939 - 11/1939

150

Ausf.B/C/D

01/1940 - 11/1940

110/110/105

Ausf.E/F

11/1940 - 10/ 1941

275/250

Ausf.S

05/1941 - 12/1941

90

Ausf.G

10/1941 - 06/1942

321
Le Panzerkampfwagen 38(t) fut fabriqué en 8 différentes variantes (Ausf. A/B/C/D/E/F/S/G) avec de nombreuses modifications. Notons que l'Ausf.S était en réalité un modèle d'exportation destiné à la Suède.
Panzerkampfwagen 38(t) was manufactured in 8 various variants (Ausf. A/B/C/D/E/F/S/G) with many modifications. Let us note that Ausf.S was actually a model of export intended for Sweden.


Sources: