LT vz.35 Light Tank
La conception du char que les Allemands appelèrent Pz.Kpfw 35(t) remonte à 1934. A cette époque la firme Skoda sortit le prototype d'un char de 10.5 tonnes, le modèle T-11 qui sera appelé couramment LTM-35 (S IIa). La conception de ce char fut particulièrement soignée afin de lui permettre de parcourir de longues distances avec son propre carburant. Il devait également être doté d'une grande manoeuvrabilité. Le confort de l'équipage fut également prit en compte ainsi que la longévité du groupe moto-propulseur.
The design of the tank that the Germans called Pz.Kpfw 35(t) goes back to 1934. At that time the Skoda firm realized the prototype a tank of 10.5 tons, the T-11 model which will be usually called LTM-35 (S IIa). The design of this tank was particularly neat in order to enable it to traverse long distances with its own carburizing. It was also to be equipped with a great maneuverability. The comfort of the crew was also took into account as well as the longevity of the power unit.
L'engin devait en plus répondre au conditions suivantes: 1) un barbotin arrière pour libérer le plus possible le compartiment de combat des éléments de propulsion - 2) un moteur de petit format pour ménager un grand compartiment de combat - 3) une transmission à 6 étages avec un changement de vitesse actionné par air - 4) une direction assistée grâce à l'emploi d'air comprimé, permettant de longues heures de conduite sans fatiguer inutilement le pilote - 5) une suspension dont la pression sur chaque galet soit identique - 6) les principaux équipements devaient être dédoublés pour assurer une grande fiabilité et un excellent fonctionnement. Les tests effectués sur le prototype furent satisfaisants et le char fut mis en production dès 1935.
The machine was moreover to answer the following conditions: 1) a back sprocket-wheel as much as possible to release the compartment of combat of the elements of propulsion - 2) an engine of small size to spare a large compartment of combat - 3) a 6-speeds transmission with a shifting of speed actuated by air - 4) a power-assisted steering thanks to the use of compressed air, allowing long hours of road without unnecessarily tiring the pilot - 5) a suspension whose pressure on each roller is identical - 6) the principal equipment were to be duplicated to ensure a great reliability and an excellent operation. The tests carried out on the prototype were satisfactory and the tank was put in production since 1935.
Le LT-35 était considéré comme une "solution d'intérim" avant que Lt-38 soit entièrement développé et prêt pour la production. L'excellente réputation du LT-35 était due à sa conception technique très avancée. Après la résolution des problèmes majeurs, en effet il s'avéra être un excellent char. Le LT-35 fut produits dans différentes versions connues sous les désignations R-2 et T-11. Avant que le conflit ne débute, le Lt-35 fut également exporté dans différents pays comme la Roumanie (126 en 1936).
LT-35 was considered like a "solution of interim" before Lt-38 is entirely developed and ready for the production. The excellent reputation of LT-35 was due to its very advanced technical design. After the resolution of the major problems, indeed it proved to be an excellent tank. LT-35 was produced in various versions known under designations R-2 and T-11. Before the conflict does not begin, LT-35 was also exported in various countries like Romania (126 in 1936).
| | |
| --- | --- |
| | |
| Glacis | |
| | |

Superstructure front plate
En 1938-39, l'Allemagne annexa la Tchécoslovaquie et en 1939, les 219 exemplaires furent incorporés dans la Wehrmacht au sein de la 6e Panzerdivision. La fin production avait été planifiée pour 1938 par l'Armée tchèque mais fut reportée à 1939, sous supervision allemande.. Environ 424 furent produits entre 1935 et 1939 par Skoda (environ 340) et CKD (84).
In 1938-39, Germany annexed Czechoslovakia and in 1939, the 219 specimens were incoporated in Wehrmacht within 6th Panzerdivision. End of the production had been planned for 1938 by the Czech Army but was deferred to 1939, under German supervision. Approximately 424 were produced between 1935 and 1939 by Skoda (approximately 340) and CKD (84).

Le LTM-35 avait un blindage maximum de 25 mm. Le blindage était composé de plaques rivetées les unes aux autres sauf celle du toit de la superstructure qui était boulonnée. Son armement était composé du canon de 37.2 mm Skoda L/40 (de type A3), à grande cadence de tir, et d'une mitrailleuse de 7.92 mm ZB vz 37 . Le canon et la mitrailleuse étaient montés sur une tourelle rotative (sans plancher solidaire), ce qui était une première pour la firme Skoda. Le canon était constitué d'un tube monobloc, était semi-automatique et disposait d'une hausse à cadran (avec un réticule gradué). Ses possibilités de pointage vertical allaient de -10° à +25°. Son pointage horizontale s'effectuait par rotation manuelle de la tourelle via un volant. Ce dispositif était satisfaisant sur les chars légers grâce à un contrepoids situé à l'arrière de la tourelle afin de compenser le poids du canon. Le canon était pointé en hauteur via l'action directe de l'épaule du tireur ou grâce à un mécanisme approprié. Pour la mise à feu, le canon était maintenu immobile par un système hydraulique. Le canon A3 sera par la suite modifié pour être mieux adapté à l'étroitesse de la tourelle, en diminuant son recul et en transformant le volant de pointage en hauteur afin que le tireur n'ait plus besoin de le lâcher pour tirer. La vitesse initiale sera également augmentée pour atteindre les 800 m/s. Le coupole était équipé de 4 épiscopes munis de miroirs et de vitres de protection.
LTM-35 had a maximum shielding of 25 mm. The shielding was composed of riveted plates the ones with the others except that of the roof of the superstructure which was bolted. Its armament was composed of the gun of 37.2 mm Skoda L/40 (A3 type), at great rate of shooting, and a machine-gun of 7.92 mm ZB vz 37 . The gun and the machine-gun were assembled on a rotary turret (without interdependent floor), which was a first for the Skoda firm. The gun consisted of a cast solid tube, was semi-automatic and had a rise with dial (with a graduated reticle). Its possibilities of vertical pointing went from -10° to +25°. Its horizontal pointing was carried out by manual rotation of the turret via a wheel. This device was satisfactory on the light tanks thanks to a counterweight located at the back of the turret in order to compensate the weight of the gun. The gun was pointed in height via the direct action of the shoulder of the gunner or thanks to a suitable mechanism. For the firing, the gun was maintained motionless by a hydraulic system. The A3 gun will be modified thereafter to be better adapted to the narrowness of the turret, by decreasing its recoil and by transforming the wheel of pointing into height so that the gunner does not need more to release it to draw. Initial speed will be also increased to reach the 800 m/s. The cupola was equipped with 4 episcopes with mirrors and protection panes.
Skoda LT-35
Comme précité, l'armement secondaire était constitué d'une mitrailleuse ZB vz 37 de 7.92 mm. La mitrailleuse coaxiale pouvait être mise à feu simultanément avec le canon ou individuellement. Une deuxième mitrailleuse sera montée par après sur la plaque frontale de la superstructure. Cette dernière, était mise à feu par le pilote grâce à un câble sous gaine relié au palonnier. Chaque mitrailleuse avait sa propre lunette de visée.
Like above mentioned, the secondary armament consisted of a machine-gun ZB vz 37 of 7.92 mm. The coaxial machine-gun could be simultaneously fired with the gun or individually. A second machine-gun will be assembled by afterwards on the frontal plate of the superstructure. The latter, was fired by the pilot thanks to a push-pull cable connected to the swing bar. Each machine-gun had its own sight tube.
37.2 mm Skoda vz 34 L/40

Penetration of a shielding plate (mm) under a plunging angle of 30°

Ammo

Weight

Velocity

100 m

500 m

1000 m

1500 m

2000 m

Armor Piercing

0.815 kg

690 m/s

37

31

26

22

-

Turret

Running-Gear
Le gros avantage du LTM-35 était sa facilité de manoeuvre qui réduisait l'usure du pilote. L'engin était très rapide et facile à conduire grâce à sa boîte de vitesse à 12 rapports et à son système de direction à servomécanisme pneumatique. Son moteur était le 6 cylindres Skoda T-11, à refroidissement liquide qui développait 120 CV. Il pouvait parcourir 200 km par jour à une vitesse moyenne de 20-26 km/h. Sa vitesse de pointe était de 40 km/h sur route. La suspension avait une longévité remarquable en ce sens que la durée de vie des chenilles et des galets variait entre 4000 et 8000 km. La suspension était composé de 8 petits galets doubles montés par quatre sur deux boggies, un galet libre monté à l'avant entre la poulie de tension et le premier boggie (ne touchait pas le sol, sauf pendant des manoeuvres sur relief accidenté), 4 rouleaux porteurs, un barbotin arrière et une poulie de tension montée à l'avant.
The large advantage of LTM-35 was its facility of operation which reduced the wear of the driver. The machine was very fast and easy to drive thanks to its 12-speeds gearbox and its system of direction with pneumatic servomechanism. Its engine was the 6 cylinders Skoda T-11, with liquid cooling which developed 120 HP. It could traverse 200 km per day at a mean velocity of 20-26 km/h. Its dash speed was 40 km/h on road. The suspension had a remarkable longevity in the sense that the lifespan of the caterpillars and rollers varied between 4000 and 8000 km. The suspension was composed of 8 small double rollers assembled by four on two bogie trucks, a free roller assembled in front between the pulley of tension and the first bogie truck (did not touch the ground, except during operations on broken relief), 4 return rollers, a back sprocket-wheel and a pulley of tension assembled to the front one.
| | |
| --- | --- |
| | |
| Hull Rear Plates | |
| | |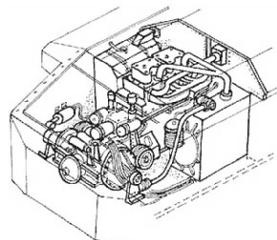 Engine compartment
| | |
| --- | --- |
| | |
| Skoda LT-35 of the Czechoslovakian army. | Pz.Kpfw 35(t) in service in Wehrmacht. |
| | |


Sources:
Connaissance de l'Histoire (Hachette) - HS n°3 - Blindés des origines à 1940
Connaissance de l'Histoire (Hachette) - N°17 - " Les chars de combat allemands 39-45"
Connaissance de l'Histoire (Hachette) - N°5 - " Véhicules blindés allemands 39-45"
Les Blindés de la Seconde Guerre Mondiale (Atlas)
German light panzers 1932-1942 (Osprey Military) - New Vanguard N°26
Site "Achtung Panzer" - http://www.achtungpanzer.com
Site "Germany's vehicle history" - http://www.wwiivehicles.com
Site "Second World War Armour" - http://www.onwar.com/tanks/index.htm