Vickers Carden-Loyd Mk.VI 47 mm FRC Tank Destroyer
La chenillette Carden-Loyd Mark VI fut le premier véhicule blindé à intéresser la Commission permanente de Motorisation en 1929. Six exemplaires de ce petit véhicule furent achetés par la Belgique et testés durant les manœuvres de 1931. Plusieurs essais de traction du canon de 47 mm FRC (Fonderie Royale de Canons, Liège) et du mortier de 76mm furent réalisés mais donnèrent guère de résultats probants (faible mobilité à la fois en tout terrain et sur route). De plus le canon de 47mm était malaisé à mettre en batterie et encore plus à débêcher.
The tankette Carden-Loyd Mark VI was the first armored vehicle to interest the Standing committee of Motorization in 1929. Six specimens of this small vehicle were bought by Belgium and were tested during the training operations of 1931. Several tractor drawing tests of the gun of 47 mm FRC (Fonderie Royale de Canons, Liege) and of the mortar of 76mm were carried out but gave hardly convincing results (low mobility at the same time in cross-country and on road). Moreover the gun of 47mm was difficult to put on battery and even more to withdraw.
47mm Vickers Mk.VI self-propelled gun
Il fut donc décidé que les chenillettes Vickers ne serviraient plus à tracter les canons de 47mm mais à les porter ! En effet des canons de 47mm FRC furent montés sur les 6 Carden-Loyd Mark VI de l'armée belge, en faisant ainsi des canons automoteurs. Ces véhicules ne pouvaient tirer que vers l'avant (le canon ne pouvant pivoter) et leur mobilité en tout terrain restait hasardeuse (surtout dans la forêt ardennaise). Le Mark VI pesait 1.5 tonne, avait un blindage de 6-9 mm et était propulsé par un moteur Ford Model T de 40 cv. Il pouvait atteindre les 45 km/h.
It was thus decided that the Vickers tankettes would not be used any more to tractor draw the guns of 47mm but to carry them! Indeed guns of 47mm FRC were assembled on the 6 Carden-Loyd Mark VI of the Belgian army, by thus making self-propelled guns. These vehicles could fire only forwards (the gun which cannot swivel) and their mobility in cross-country remained hazardous (especially in the Ardennes forest). Mark VI weighed 1.5 ton, had a shielding of 6-9 mm and was propelled by an Ford Model T engine of 40 hp. It could reach the 45 km/h.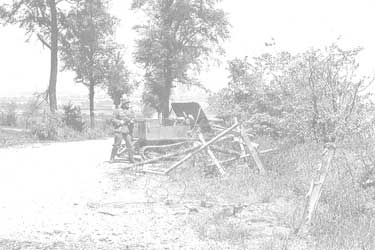 Véhicule abandonné et examiné par un fantassin allemand.
Vehicle abandoned and examined by a German infantryman.
47mm SA-FRC 1932 /L33.6
Penetration of an armour-plate (mm) under a vertical angle of 30°


Ammo


Weight


Velocity


100 m

500 m

1000 m

High-explosive rounds

1.550 kg

675 m/s

51

44

37

Piercing rounds

1.655 kg

450 m/s

?

?

?
Ils furent utilisés par les Chasseurs ardennais jusqu'en 1938, puis au sein de deux Régiments Cyclistes-Frontière. Ils furent utilisés en embuscade le long de la Meuse et firent feu les premiers (près de la ville de Visé) sur les Allemands, le 10 mai 1940.
They were used by the "Chasseurs ardennais" until 1938, then within two Regiments of Cyclist-Border. They were used in ambush along the Meuse river and made fire the first (close to the city of Visé) on the Germans, May 10, 1940.


Sources: