ABCC (Auto-Blindée du Corps de Cavalerie) / ACG-1
Durant une visite en France, la Commission Militaire Belge fut impressionnée par le prototype de châssis de char « type YR » de Renault (futur AMC-34) auquel les Français envisageaient de monter une tourelle APX2 des Ateliers de Puteaux. Après un avis favorable de la Commission, le Gouvernement belge commande en 1935 25 châssis d'AMC-34 et 25 tourelles APX2 aux Ateliers de Puteaux. Si les 25 tourelles furent bien livrés en 1936, les Français signifièrent aux Belges que la production de l'AMC-34 était stoppée car cet engin ne donnait pas satisfaction. Les Belges se trouvaient donc avec 25 tourelles sans châssis.
Sur les 25 tourelles, 13 furent installées sur les fortifications de la côte belge. En 1937, le général Denis alors ministre de la défense, décida de commander 12 châssis de l'AMC-35 ou ACG-1, le successeur de l'AMC-34. Le premier châssis arriva en Belgique en juin 1937.
During a visit in France, the Belgian Military Commission was impressed by the prototype of chassis of tank "type YR" of Renault (future AMC-34) to which the French planned to mount a turret APX2 of the Workshops of Puteaux. After a favourable opinion of the Commission, the Belgian Government orders in 1935 25 chassis of AMC-34 and 25 turrets APX2 to the Workshops of Puteaux. If the 25 turrets were well delivered in 1936, the French meant to the Belgians that the production of the AMC-34 was stopped because this machine did not give satisfaction. The Belgians were thus with 25 turrets without chassis.
On the 25 turrets, 13 were installed on the fortifications of the Belgian coast. In 1937, the General Denis then Minister of defense, decided to order 12 chassis of the AMC-35 or ACG-1, the succesor of the AMC-34. The first chassis arrived in Belgium in June 1937.
Belgian Renault ABCC light tank

src:

Dessins, Jean Restayn
Le premier exemplaire complété avec une tourelle APX-2, fut testé par les Chasseurs Ardennais en août 1937. Ces derniers ne furent guère impressionnés par ce char car ils le jugeaient mal adaptés au terrain ardennais. Ils préféraient disposer de 2 ou 3 fois plus de canons-automoteurs T.13. De plus au niveau politique, beaucoup de politiciens estimaient qu'en vertu de la neutralité de la Belgique, le pays ne devaient posséder qu'une armée défensive. Les chars étant considérés comme des armes offensives n'étaient pas les bienvenus. Cependant, les châssis qui avaient déjà été payés furent livrés avant la fin de 1937. Cependant ils furent abandonnés et oubliés en plein air dans la cour des ateliers Carels à Gand. La Belgique, lors de la mobilisation de 1939 se souvint de l'existence de ces 12 châssis. On remis rapidement 8 chars en état de combattre. Deux qui étaient alors en réparation à l'Arsenal d'Etterbeek (Bruxelles) furent démontés afin de fournir des pièces de rechange.
The first specimen completed with a turret APX-2, was tested by the "Chasseurs ardennais" in August 1937. The latter were hardly impressed by this tank because they juged it badly adapted to the of the Ardennes ground. They preferred to have 2 or 3 times more self-propelled guns T.13. Moreover at the political level, much of politicians estimated that under the terms of the neutrality of Belgium, the country had to have only one defensive army. The tanks were considered as offensive weapons and were not welcome. However, the chassis which had already paid were delivered before the end of 1937. However they were abandoned and forgotten in the open air in the court of the Carels workshops in Ghent. Belgium, at the time of the mobilization of 1939 remembered the existence these 12 chassis. One repaired quickly 8 tanks. Two which was then in repair in the Arsenal of Etterbeek (Brussels) were dismounted in order to provide spare parts.
| | |
| --- | --- |
| | |
| Bonne vue d'un ABCC belge détruit. | ABCC en action. |
| Good view of a destroyed Belgian ABCC. | ABCC in action. |
| | |
La tourelle biplace APX-2B de forme octogonale était assemblée de façon mixte (coulée, rivetée et soudée). La rotation était électrique ou manuelle. L'armement principal était constitué d'un canon de 47 mm SA Mle 1935 français (et non le 47 mm FRC belge). Aucune mitrailleuse ne fut fournie avec la tourelle. Les Belges décidèrent donc d'utiliser des mitrailleuses de 13.2 mm Hotchkiss de récupération. Les Belges gardèrent le canon français car il était plus moderne que leur propre canon de 47 mm FRC et possédait de meilleures performances anti-char. L'installation de la mitrailleuse de 13.2mm Hotchkiss assez imposante obligea le déplacement vers l'arrière de l'épiscope latéral gauche. L'emplacement originale de l'épiscope fut simplement bouché par une plaque de blindage.
Two-seater turret APX-2B of octagonal form was assembled in a mixed way (casting, riveted and welded). Traverse was electric or manual. The principal armament consisted of a French gun of 47 mm SA Mle 1935 (and not 47 Belgian mm FRC). No machine-gun was provided with the turret. The Belgians thus decided to use machine-guns of 13.2 mm Hotchkiss of recovery. The Belgians kept the French gun because it was more modern than their own gun of 47 mm FRC and had better anti-tank performances. The installation of the rather imposing machine-gun of 13.2mm Hotchkiss obliged displacement towards the back of the left side episcope. The original site of the episcope was simply stopped by an armour-plate.
ABCC abandonné lors de la campagne de 18 jours, en mai 1940.

ABCC given up at the time of the 18 day campaign, in May 1940.
La suspension de type "en ciseau" comprenait des ressorts horizontaux. Le train de roulement comprenait de chaque côté cinq galets, un barbotin avant, une poulie de tension arrière et cinq rouleaux porteurs. Le blindage de 25 mm maximum était constitué de plaques d'acier rivetées. L'AMC 35 avait un poids de combat d'environ 15 tonnes et était propulsé par un moteur Renault de 180 ch, identique à celui du char B1-bis, mais avec 4 cylindres seulement (6 pour le B1-bis). Il pouvait atteindre sur route les 40 km/h. Cependant sa consommation d'essence était catastrophique. Pour preuve, l'AMC 35 n'avait que trois-quarts d'heure d'autonomie en tout terrain ! Le train de roulement était en fait mal adapté à la vitesse de ce char cela provoquait cette consommation excessive.
The suspension of the scissor type included horizontal springs. The running-gear included on each side five road-wheels, a front sprocket-wheel, a back idler and five return rollers. The maximum shielding of 25 mm consisted of riveted steel plates. The AMC 35 had a weight of combat of approximately 15 tons and was propelled by a Renault engine of 180 hpH, identical to that of the tank B1-bis, but with 4 cylinders only (6 for the B1-bis). It could reach on road the 40 km/h. However its petrol consumption was catastrophic. As a proof, the AMC 35 had only three-quarter of hour of range in any ground! The running-gear was in fact badly adapted at the speed of this tank that caused this eccesive consumption.
Excellente vue de l'uniforme de combat des tankistes belges. Notez aussi, le Rhinocéros blanc peint sur la tourelle.

Excellent sight of the uniform of combat of the Belgian tank crewmen. Also note, the white Rhinoceros painted on the turret.
47mm SA 1935




Penetration of an armour-plate (mm) under a vertical angle of 30°

Ammo


Weight


Velocity


Piercing

HE Shell Mle 1932

1.415 kg

590 m/s

?

AP Shot Mle 1935

1.500 kg

700 m/s

40mm at 400 m
Les 8 ACG-1 opérationnels furent versés dans un escadron de voitures blindées constitué de deux sections de 4 chars chacune. Le personnel du premier peloton fut fournit par le 1er Guides et celui du second peloton par le 2ème Lanciers. Ces hommes furent intensivement entraînés jusqu'à la veille du jour de l'invasion allemande, le 10 mai 1940. Les ACG-1 furent rebaptisés Autoblindées de Corps de Cavalerie (ABCC) par les Belges. Sur ces 8 chars, 4 furent détruits par des 37mm Pak et 2 tombèrent en panne et furent abandonnés. Mal utilisés, en nombre insuffisant, le ACG1 (ABCC) ne put guère s'opposer au rouleau compresseur des Panzerdivisions. Seulement deux exemplaires survécurent à la campagne de 18 jours et furent sûrement capturés par les Allemands, utilisés par ceux-ci sous le nom de Panzerkampfwagen AMC 738(b).
The 8 operational ACG-1 were versed in a squadron of armoured cars made up of two sections of 4 tanks each one. The personnel of the first group was provides by the 1st Guides and that the second group by the 2nd Lancers. These men were intensively trained until the day before of the German invasion, May 10, 1940. The ACG-1 were renamed "Autoblindées de Corps de Cavalerie" (ABCC) by the Belgians. On these 8 tanks, 4 were destroyed by 37mm Pak and 2 broke down and were abandoned. Misused, in an insufficient number, ACG1 (ABCC) could hardly be opposed to the road roller of Panzerdivisions. Only two tanks survived to the 18 day campaign and were surely captured by the Germans, used by those under the name of Panzerkampfwagen AMC 738(b).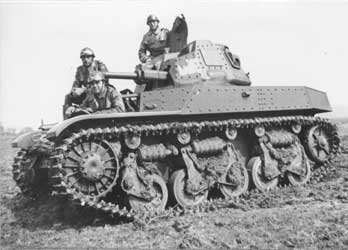 Un équipage posant avec son ABCC pour la photo.
A crew posing with his ABCC for the photograph.


Sources: