PZInz.130 Light Amphibious Tank
Design: Driver's Compartment
Le compartiment de combat était situé sur la gauche de la caisse. L'équipage de deux hommes y prenait place, le pilote à l'avant et le commandant-tireur à l'arrière. La partie frontale du compartiment était monté sur charnière, baissé sur le glacis avant hors période de combat par beau temps. La partie frontale accueillait également un petit sabord monté sur charnière, fermée lors des combats, la vision étant assurée par une fente de vision. Deux autres fentes de visions étaient disposées de chaque côté du poste de pilotage. La vision était complété par un périscope rotatif sur le toit.
The compartment of combat was located on the left of the hull. The crew of two men took there seat, the driver in front and the commander-gunner at back. The frontal part of the compartment was assembled on hinge, dropped on the frontal glacis per good weather except period of combat. The frontal part also accomodated a small port assembled on hinge, closed at the time of the engagements, the vision being ensured by a slit of vision. Two other slits of visions were laid out on each side of the cockpit. The vision was supplemented by a rotary periscope on the roof.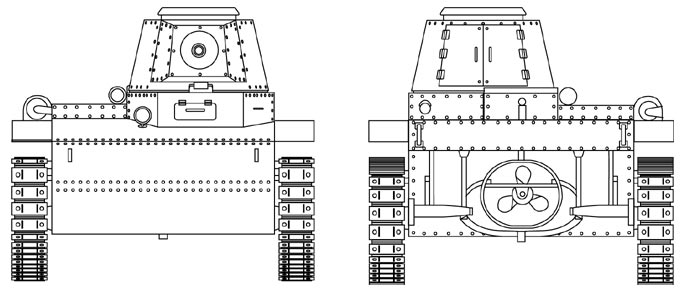 Design: Turret
La tourelle conique du PZInz.130 provient du projet avorté du char léger TKW basé sur la chenillette TK. Elle devait être armée en principe d'une mitrailleuse de 7.62 mm, soit une Hotchkiss wz.25 refroidie par air, soit une wz.30 refroidie par eau, approvisionnée avec 2500 coups, montée sur rotule. Cependant, elle pouvait également accueillir un canon de 20 mm automatique wz.38 FK-A approvisionnée avec 200 coups. Le prototype en tout cas n'était pas armé lors de sa capture par les Allemands en 1939. La tourelle était accessible par une trappe sur le toit (qui couvrait également les fentes de ventilation) ou par une porte à deux battants montés sur charnières sur sa face arrière.
The conical turret of PZInz.130 comes from the fallen through project of light tank TKW based on tankette TK. It was to be armed in theory with a machine-gun of 7.62 mm, either Hotchkiss wz.25 cooled by air, or a wz.30 cooled by water, supplied with 2500 rounds, assembled on ball mount. However, it could also accomodate an automatic gun of 20 mm wz.38 FK-A supplied with 200 rounds. The prototype was not armed at the time of its capture by the Germans in 1939. The turret was accessible by a hatch on the roof (which also covered the slits of ventilation) or by a door to two leaves assembled on hinges on its back face.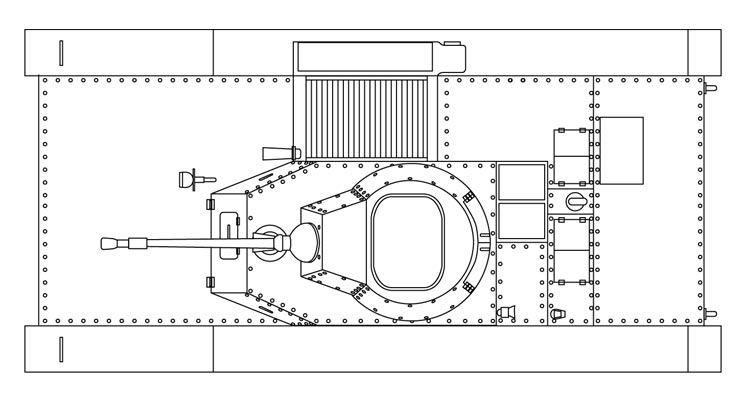 Sources: