Vickers Carden-Loyd Tankettes
En 1924, le major anglais Martel réalisa à ses frais un petit char monoplace (inspiré des conceptions du colonel Fuller et de son devancier, le général Estienne), qu'il présenta au Ministère de la Guerre avec succès. Durant la même période, les anciens capitaines Carden et Loyd réalisèrent un véhicule chenillé à basse silhouette, ne pesant que quelques centaines de kilos, également monoplace. Ce véhicule était propulsé par un moteur Ford mod. T et était à traction arrière et se pilotait en position couchée. Le major Martel encouragea le Ministère de la Guerre à choisir ce dernier, plus perfectionné que son propre modèle, ce qui témoigne d'un bel esprit.
In 1924, English major Martel produced with his expenses a small single-seat tank (inspired of the designs of colonel Fuller and its precursor, the General Estienne), which he presented at the War Ministry successfully. During the same period, the former captains Carden and Loyd produced a tracked vehicle with low silhouette, weighing only a few hundred kilos, also single-seater. This vehicle was propelled by an engine Ford Mod. T and was with rear propulsion and was controlled in lying position. Major Martel encouraged the Ministry for the War to choose this last, more sophisticated than his own model, which testifies to a beautiful spirit.
| | |
| --- | --- |
| | |
| Carden-Loyd one-man | Carden-Loyd two-men |
| | |
Sur le deuxième prototype de Carden & Loyd, le pilote était assis à califourchon sur le moteur. La direction et le freinage était obtenu au moyen de pédales agissant sur les freins à tambour de l'arbre moteur placé à l'avant. La suspension comprenait un longeron portant 14 galets (sans ressorts). En 1926 les deux hommes fondent une petite société et brevetèrent leur véhicule.
On the second prototype of Carden & Loyd, the driver had sat astride on the engine. The steering and braking were obtained by means of pedals operating the drum brakes of the driving shaft placed at the front one. The suspension included a member carrying 14 road-wheels (without springs). In 1926 the two men melt a small company and patented their vehicle.
En décembre 1926, Carden & Loyd présentèrent plusieurs petits char dont le Mark I. Le Mark I était une chenillette monoplace de 1.6 tonne, ayant un blindage de 6 à 9 mm et un moteur Ford Model T de 14 cv. La version Star (convertible) pouvait atteindre les 50 km/h sur roues et 24 km/h sur chenilles. L'armement était composé d'une seule mitrailleuse légère. Cette disposition spéciale visait à prolonger la durée de vie des chenilles.
In December 1926, Carden & Loyd presented several small tank of which Mark I. Mark I was a single-seat tankette of 1.6 ton, having an armor from 6 to 9 mm and an engine Ford Model T of 14 hp. The Star version (convertible) could reach the 50 km/h on wheels and 24 km/h on tracks. The armament was composed of only one light machine-gun. This special provision aimed to prolong the lifespan of the tracks.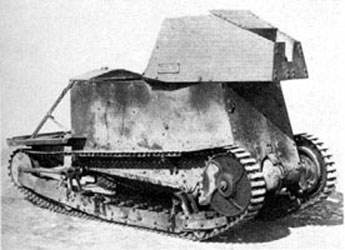 Carden-Loyd Mark I
Specifications
General
Type: Tankette
Crew: 1

Engine
Ford Model T Gasoline | 40 hp
Dimensions/Masses
Length:

3.18 m |

Width:

1.37 m |

Height:

1.47 m


Weight:

1600 kg
Armor
Maximum:

9 mm -

Minimum:

6 mm
Performances
Max. Speed:

50 km/h |

Power/weight:

26.6 hp/t


Range:

? km


Suspension:

?
Armament
Main: 1 x Vickers .303 (7.7 mm) MG
Idem que le Mark I mais avec une nouveau design au niveau de la suspension. Les 14 galets en fer furent remplacés par 4 galets avec caoutchouc et les chenilles furent remplacées par des modèles plus robustes. Le Mark II fut expérimenté à Bovington en 1927.
Idem that Mark I but with a new design on the level of the suspension. The 14 iron road-wheels were replaced by 4 rroad-wheels with rubber and the tracks were replaced by more robust models. Mark II was tested in Bovington in 1927.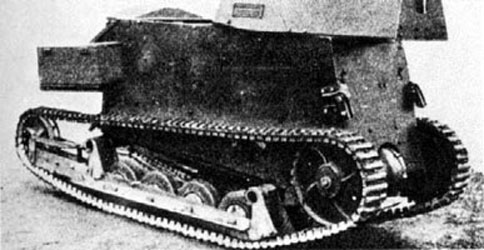 Carden-Loyd Mark II
Similaire au Mark I mais avec des roues pneumatiques.
Similar to Mark I but with pneumatic wheels.
Le Mark IV est une chenillette biplace dotée de la même suspension que le Mark II mais avec de chaque côté 5 rouleaux porteurs. L'armement consistait en une mitrailleuse lourde Vickers .50cal (12.7 mm). Cette version était dotée d'une caisse élargie et aplatie avec un blindage surélevé à droite. Le mitrailleur pouvait l'élever plus encore grâce à un masque amovible. Les roues pour les mouvements sur route furent conservées. Huit exemplaires furent construits et expérimentés.
Mark IV is a two-seater tankette equipped with the same suspension as Mark II but with on each side 5 return rollers. The armament consisted of a heavy machine gun Vickers .50cal (12.7 mm). This version was equipped with a widened and flattened hull with a shielding raised on the right. The machine gunner could raise it more still thanks to a removable mask. The wheels for the movements on road were preserved. Eight specimens were built and tested.

Carden-Loyd Mk.IV
Huit exemplaires de ce curieux engin biplace furent commandés à Carden-Loyd (en plus des 8 commandés à Morris-Martel). Il s'agissait d'un véhicule convertible tricycle (pneus gonflables) doté également d'un train de roulement chenillé (doté de galets en acier moulé). Il pesait 1.13 tonne, avait un blindage de 6-9 mm et était propulsé par un moteur Ford Model T 22 de 5 cv. Le Mark V pouvait atteindre les 50 km/h sur ses trois roues et 36 km/h sur chenilles. L'armement consistait en une mitrailleuse Vickers .303cal (7.7 mm). En 1928 la Carden-Loyd Ltd fut avalée par la Vickers Armstrong Ltd aussitôt la sortie du Mark V.
Eight specimens of this curious two-seater machine were ordered from Carden-Loyd (in more of the 8 ordered from Morris-Martel). It acted of a three-wheeled convertible vehicle (inflatable tires) also equipped with a tracked running gears (equipped with cast steel road-wheels). It weighed 1.13 ton, had a shielding of 6-9 mm and was propelled by an engine Ford Model T 22 of 5 hp. The Mark V could reach the 50 km/h on its three wheels and 36 km/h on its tracks. The armament consisted of a machine-gun Vickers .303cal (7.7 mm). In 1928 Carden-Loyd Ltd was swallowed by Vickers Armstrong Ltd as of the appearance of the Mark V.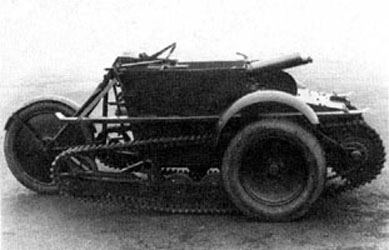 Carden-Loyd Mark V
Specifications
General
Type: Tankette
Crew: 2

Engine
Ford Model T Gasoline | 22.5 hp
Dimensions/Masses
Length:

3.02 m |

Width:

1.98 m |

Height:

1.02 m


Weight:

1130 kg
Armor
Maximum:

9 mm -

Minimum:

6 mm
Performances
Max. Speed:

50 km/h (track), 35 km/h (wheel)

Power/weight:

19.9 hp/t |

Range:

? km


Suspension:

?
Armament
Main: 1 x Vickers .303 (7.7 mm) MG
Le Mark VI pesait 1.5 tonne, avait un blindage de 6-9 mm et était propulsé par un moteur Ford Model T de 40 cv. Il pouvait atteindre les 45 km/h. L'armement consistait en une mitrailleuse Vickers .303cal (7.7 mm) ou .50cal (12.7 mm). Environ 400 exemplaires du Mark VI furent produits par la firme Vickers. Le Mark VIB fut doté d'un nouveau train de roulement .
Mark VI weighed 1.5 ton, had a shielding of 6-9 mm and was propelled by an engine Ford Model T of 40 hp. It could reach the 45 km/h. The armament consisted of a machine-gun Vickers .303cal (7.7 mm) or .50cal (12.7 mm). Approximately 400 specimens of Mark VI were produced by the Vickers firm. Mark VIB was equipped with a new running gear.
Carden-Loyd Mk.VI & VIB
Grâce à une bonne campagne publicitaire, la licence fut vendue à de nombreuses firmes étrangères dont la F.N. belge, la Skoda tchécoslovaque, la Katil française, la Fiat italienne, la PZI hollandaise et à l'Union Soviétique. Le Mark VI fut l'un des véhicules les plus célèbres de l'histoire des blindés. Il fut copié par de nombreux pays comme la France (UE Series), l'Italie (CV Series), la Pologne (TK Series), la Tchécoslovaquie (MU4) et l'URSS (T27), ... . Cependant en Grande-Bretagne, ce type d'engin fut jugé très tôt inapte à remplir les missions prévues initialement et tous les modèles produits seront utilisés comme "carriers", comme transport d'armes collectives d'infanterie (mitrailleuses lourdes, mortiers et petits canons). Le Mark VI fut également livrés à l'Inde et au Canada.
Thanks to a good advertising campaign, the licence was sold at many foreign firms of which the Belgian F.N., Czechoslovakian Skoda, French Katil, Italian FIAT, the Dutch PZI and in the Soviet Union. Mark VI was one of the most famous vehicles of the history of the armoured tanks. It was copied by many countries like France (Series EU), Italy (CV Series), Poland (TK Series), Czechoslovakia (MU4) and the USSR (T27).... However in Great Britain, this type of machine was considered to be very early inapt to fulfill the missions envisaged initially and all the produced models will be used like "carriers", as transport of collective weapons of infantry (heavy machine guns, mortars and small guns). Mark VI was also delivered to India and Canada.
Specifications
General
Type: Tankette
Crew: 2

Engine
Ford Model T Gasoline | 40 hp
Dimensions/Masses
Length:

2.46 m |

Width:

1.75 m |

Height:

1.22 m


Weight:

1500 kg
Armor
Maximum:

9 mm -

Minimum:

6 mm
Performances
Max. Speed:

40 km/h |

Power/weight:

26.6 hp/t


Range:

144 km


Suspension:

Bogie
Armament
Main: 1 x Vickers .303 (7.7 mm) or .50 (12.7 mm) MG
Design
La caisse se distinguait par sa simplicité, le moteur était installé au milieu de la chenillette et les deux hommes d'équipage étaient assis côte à côte à l'avant. Le design du train de roulement recherchait avant tout la légèreté. Le moteur transmettait la puissance aux barbotins avant via une boîte de vitesses modèle T épicycloïdale. Le différentiel faisait saillie sous le blindage frontal. Les galets étaient montés sur un longeron horizontal en acier riveté à des supports fixés sur le bas de caisse. Les galets de petite taille était suspendus par de courts ressorts à lames montés eux-aussi sur le longeron. La suspension qui avait une faible amplitude qui suffisait cependant à des vitesses modérées. La poulie de tension montée à l'arrière du longeron assurait la tension de la chenille. Cette disposition était assez efficace. Sur le Mark VI les chenilles avait une durée de vie de 1000 km. Les chenilles étaient à éléments courts du type double-patin. Au dessus des sièges des hommes d'équipage, la caisse était surmontée par deux couvercles blindés escamotables en forme de pyramide tronquée.
The hull was characterized by its simplicity, the engine was installed in the medium of the tankette and the two crewmen had sat one beside the other in the front one. The design of the running gear sought before all lightness. The engine transmitted the power to the front sprocket-wheels via an epicycloidal gear box model T. The differential made covered under the frontal shielding. The road-wheels were assembled on a horizontal steel member riveted with supports fixed on the bottom of hull. The road-wheels of small size was suspended by short leaf springs assembled them-also on the member. The suspension which had a low amplitude which sufficed however for moderate speeds. The idler assembled to the back of the member ensured the tension of the track. This provision was rather effective. On Mark VI the tracks had one lifespan of 1000 km. The tracks were with short elements of the double-link type. On the top of the seats of the crewmen, the hull was surmounted by two retractable armoured lids in the shape of truncated pyramid.
Carden-Loyd Mark VI

Différentiel
Boîte de vitesses supplémentaire
Levier à main du changement de vitesse supplémentaire
Pédale d'embrayage de la 1re vitesse
Pédale d'embrayage de la marche arrière
Joint de cardan
Levier de direction
Levier de commande accélérateur et avance
Boîte de vitesse épicycloïdale
Levier frein à main
Moteur
Caisse
Radiateur
Poulie de tension
Châssis-support du train de roulement
Magnéto
Galets à bandage caoutchouc
Boggie articulé
Chenille
Barbotin

Differential
Additional gear box
Hand lever of the additional shifting of speed
Clutch pedal the 1st speed
Clutch pedal of the reverse gear
Cardan joint
Steering lever
Accelerating and advances control stick
Epicycloidal gear box
Lever brake hand
Engine
Hull
Radiator
Idler
Support-frame of the running gear
Magneto
Road-wheels with binding rubber
Articulated bogie
Track
Sprocket-wheel

src: Blindés des origines à 1940, Connaissance de l'Histoire, HS n°3, Editions Hachette
Le Mark VI n'offrait aucune protection à la tête du chauffeur et du mitrailleur. Devant les 2 hommes d'équipage, une petite plaque de blindage inclinée supportait le dispositif pivotant de la mitrailleuse Vickers. Cette dernière était complètement exposée et n'avait qu'un champ de tir horizontal limité. Le trépied de la Vickers était transporté sur la plaque devant le poste du pilote (à gauche). On tenta bien d'améliorer la protection en surélevant le blindage (addition de meurtrières ou de lunettes de prisme pour la vision). Sur le Mark VIB (1931), la Vickers était couverte par des parois plus hautes et plus inclinées, ne laissant exposé que le canon de la mitrailleuse. La mitrailleuse pouvait être enlevée du véhicule et utilisée comme une mitrailleuse classique sur son trépied.
Mark VI did not offer any protection to the head of the driver and the machine gunner. In front of the 2 crewmen, a small tilted armour-plate supported the swivelling mount of the Vickers machine-gun. The latter was completely exposed and had that a limited horizontal field of fire. The tripod of Vickers was transferred onto the plate in front of the post of the pilot (on the left). One tried to improve protection by raising the shielding (addition of loopholes or glasses of prism for the vision). On Mark VIB (1931), Vickers was covered by higher and more inclined walls, leaving exposed only the gun of the machine-gun. The machine-gun could be removed from vehicle and be used like a traditional machine-gun on its tripod.
Carden-Loyd Mark VI
src: Encyclopédie des Blindés, Ed. Elsevier Séquoia
Le moteur du Mark VI était un Ford modèle T de 4 cylindres (en ligne), refroidi par eau, développant 40 cv à 2500 t/min. Le Mark VI avait une autonomie de 144 km et pouvait atteindre les 40 km/h sur route. Il pouvait franchir des obstacles verticaux de 0.41 m et des coupures franches de 1.22 m. Le Mark VI mesurait 2.46 m de long, 1.75 m de large et 1.22 m de haut et pesait 1.5 tonne. Le blindage avait une épaisseur maximum de 9 mm. Sous le radiateur installé à l'arrière, la caisse se terminait par une armature dotée d'un crochet de remorquage auquel on attachait une remorque chenillée à deux essieux.
Plus le Mark VI fut utilisé dans différentes fonctions, plus les charges transportées étaient lourdes. Pour compenser l'augmentation du poids, différents moteurs furent essayés comme les Meadows de 4 ou 6 cylindres ou le Armstrong-Siddeley refroidi par air.
The engine of Mark VI was Ford model T of 4 cylinders (on line), cooled by water, developing 40 hp to 2500 rpm. Mark VI had an autonomy of 144 km and could reach the 40 km/h on road. It could cross vertical obstacles of 0.41 m and frank cuts of 1.22 m. Mark VI was 2.46 m long, 1.75 m broad and 1.22 m in height and weighed 1.5 ton. The shielding had a maximum thickness of 9 mm. Under the radiator installed to the back, the hull ended in a reinforcement equipped with a hook of towing to which one attached a tracked trailer with two axles.
More Mark VI was used in various functions, more the transported loads were heavy. To compensate the increase in the weights, different engines were tried like Meadows of 4 or 6 cylinders or Armstrong-siddeley cooled by air.
Conversions
Les chenillettes Carden-Loyd était livrés directement à l'armée qui les modifiait selon ses besoins. Il s'agissait surtout de porteurs d'armes d'appui comme des mitrailleuses Vickers ou des mortiers Stokes. Deux versions furent créées pour tracter l'obusier de 3.7" (94 mm) ou le canon antichar de 20 mm Oerlikon. Les servants de ces pièces voyageait à la dure dans une remorque spéciale chenillée également tractée par le Carden-Loyd. Les canons étaient tractés soit sur leurs propres roues soit sur chenilles. Deux remorques furent conçues pour le ravitaillement en munitions et l'obervation d'artillerie (avec radio). Une version "char de patrouille" fut également développée mais ce modèle triplace (le troisième homme était installé derrière le chauffeur), plus grand et plus lourd ne fut pas une réussite.
The Carden-Loyd trackss was delivered directly to the army which modified them according to its needs. They were especially support carriers of weapons like Vickers machine-guns or Stokes mortars. Two versions were created to tractor draw the howitzer of 3.7"(94 mm) or the anti-tank gun of 20 mm Oerlikon. The gunners of these weapons travelled badly in a special tracked trailer also tractor drawn by Carden-Loyd. The guns were tractor drawn either on their own wheels or on tracks. Two trailers were designed for the supply in ammunition and the artillery obervation (with radio). A version "tank of patrol" was also developed but this three-seater model (the third man was installed behind the driver), larger and heavier was not a success.
Carden-Loyd in Action
Plusieurs centaines de Mark VI furent exportés à travers le monde. Ils devaient servir en principe comme chars légers. Pour cet usage, ils étaient recouverts d'un couvercle en pyramide pour protéger les hommes d'équipage, mais la mitrailleuse restait très vulnérable. Malgré ses petites dimensions la chenillette Carden-Loyd Mark VI gagna l'affection de ses utilisateurs et fit triompher l'idée de la chenillette d'infanterie. De plus avec son prix très bas, elle procurra aux armées exsangues (financièrement) de l'entre-deux-guerres un bon matériel pour expérimenter la guerre de mouvement.
Several hundred Mark VI was exported throughout the world. They were to be used in theory like light tanks. For this use, they were covered with a lid in pyramid-shape to protect the crewmen, but the machine-gun remained very vulnerable. In spite of its small dimensions the tankette Carden-Loyd Mark VI gained the affection of its users and made triumph the idea of infantry tankette. Moreover with its very low price, it provided to the bloodless armies (financially) of the inter-war period a good material to try out the mobile warfare.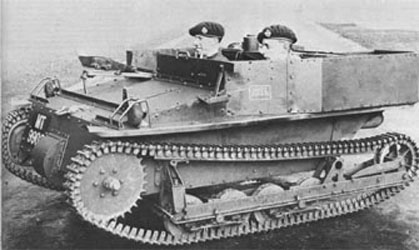 Carden-Loyd Mark VI
Les copies du Mark VI furent utilisées au combat durant la guerre d'Abyssinie, la guerre civile d'Espagne et les premiers instants de la seconde guerre mondiale, alors que le modèle originale ne fut employé au combat que par l'armée bolivienne durant la guerre du Gran Chaco en 1932-1935 contre le Paraguay. Les Boliviens utilisèrent leurs Mark VI avec leurs chars légers Vickers 6-Ton. Les Britanniques les utilisèrent uniquement pour l'entraînement des équipages.
Au niveau pratique, le Carden-Loyd Mark VI offrait une vulnérabilité limitée en raison de ses faibles dimensions et de la disposition bien étudiée du blindage avant. Malheureusement, sa vitesse impressionnante sur terrain plat, n'offrait qu'un avantage théorique à cause du peu de stabilité durant la marche et de l'impossibilité d'observer et de pointer l'armement.
The copies of Mark VI were used in the combat during the war of Abyssiny, the civil war of Spain and the first moments of the second world war, whereas the model original was employed in the combat only by the Bolivian army during the war of Gran Chaco in 1932-1935 against Paraguay. The Bolivian ones used their Mark VI with their light tanks Vickers 6-Ton. The British used them only for the training.
At the practical level, Carden-Loyd Mark VI offered a vulnerability limited because of its low dimensions and the well studied provision of the front shielding. Unfortunately, its impressive speed on flat ground, did not offer that a theoretical advantage because of little stability during walk and impossibility to observe and to point the armament.


Sources:
Les Blindés de la Seconde Guerre Mondiale, Ed. Atlas
Encyclopédie des Blindés, Ed. Elsevier Séquoia