Light Tanks Mark I-VI
Light Tanks Mark I-V
Durant l'entre-deux-guerre la Grande-Bretagne s'employa surtout à produire des chars légers au détriment d'autres types de chars plus puissants et mieux protégés. Les chars légers avaient l'avantage dans une période de récession et d'isolationnisme d'être faciles à construire, faciles à produire en masse et cela à un coût très avantageux. Cela permettait aussi de disposer d'effectifs importants en nombre à défaut de qualité. De plus dans cette période, le seul usage de ce genre d'engins était d'effectuer des missions de police dans les colonies. Un rôle ne nécessitant pas l'emploi de chars puissamment armés et protégés.
En 1929, les ultimes versions des Carden-Loyd furent dotés de tourelles tournantes pour en améliorer les possibilités tactiques. Le Carden-Loyd Mark III servit de base au prototype d'un nouveau char léger (Mark I). Le Mark I était un char biplace, doté d'une tourelle cylindrique armée d'une mitrailleuse Vickers .303 (7.7 mm), refroidie par eau. La suspension était constituée de chaque côté de deux bogies à deux galets montés sur ressorts à lames. Le tendeur de chenilles était relié à la poulie de tension arrière. La partie supérieure de la chenille reposait sur trois rouleaux porteurs.
During the between-two-war period Great Britain especially got busy to produce light tanks with the detriment of other types of tanks more powerful and better protected. The light tanks had the advantage during one time of recession and isolationism to be easy to build, easy to produce in mass and that at a very advantageous cost. That also made it possible to have important strength in a number in the absence of quality. Moreover during this time, the only use of this kind of machines was to realize missions of police in the colonies. A role not requiring the use of strongly armed and protected tanks.
In 1929, the ultimate versions of Carden-Loyd were equipped with revolving turrets to improve the tactical possibilities of them. Carden-Loyd Mark III was used as a basis for the prototype of a new light tank (Mark I). Mark I was a two-seater tank, equipped with a cylindrical turret armed with a machine-gun Vickers .303 (7.7 mm), cooled by water. The suspension consisted of each side of two bogies with two road-wheels assembled on leaf springs. The tensioner of tracks was connected to the back idler. The higher part of the track rested on three return rollers.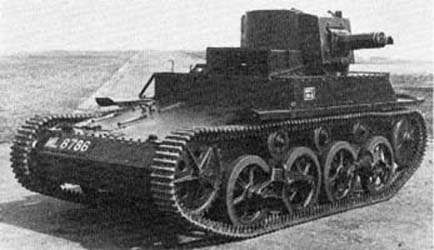 Vickers Light Tank Mark IA (A4E4)
Le blindage était épais en moyenne de 14 mm. Le Mark I était propulsé par un moteur Meadows de 59 cv qui procurait au char une vitesse de 48 km/h. La direction était obtenue au moyen de système embrayage-frein et le changement des vitesses était mécanique (4 rapports).
The shielding was thick on average of 14 mm. Mark I was propelled by a Meadows engine of 59 hp which got to the tank a speed of 48 km/h. The steering was obtained by means of clutch-brake system and the change of speeds was mechanical (4 speeds).
Le modèle suivant, le Mark IA était doté d'une tourelle légèrement plus grande et un manchon blindé pour la mitrailleuse. Il était également doté d'une suspension Horstmann à ressort horizontaux, avec deux rouleaux porteurs. La version en service dans les indes britanniques possédait un système de refroidissement renforcé.
The following model, Mark IA was equipped with a turret slightly larger and an armoured sleeve for the machine-gun. It was also equipped with a Horstmann suspension with spring horizontal, with two return rollers. The version in service in the British Indies had a system of cooling reinforced.
Vickers Light Tank Mark IA (A4E6)

Vickers Light Tank Mark IA (A4E8)
Vickers Light Tank Mark IA (A4E10)
Sur le Mark II, le moteur, la boîte de vitesses et la transmission étaient placées à droite, communiquant le mouvement à un arbre transversal terminé de chaque côté par les embrayages de direction. Le pilote et la tourelle du commandant étaient situés à gauche. L'armement était monté à l'avant de la tourelle alors que la radio était placée à l'arrière. Le Mark II était équipé d'un moteur Rolls-Royce développant 66 cv avec boîte Wilson dotée d'un présélecteur. Le Mark II pesait 4.5 tonnes, mesurait 3.5 m de long, 1.90 m de haut et 1.90 m de large.
On Mark II, the engine, the gear box and the transmission were placed on the right, communicating the movement to a cross shaft finished on each side by the clutches of direction. The driver and the turret of the commander were located on the left. The armament was assembled in front of the turret whereas the radio was placed at the rear. Mark II was been driven by a Rolls-Royce engine developing 66 hp with Wilson box equipped with a preselector. Mark II weighed 4.5 tons, was 3.5 m long, 1.90 m in height and 1.90 m broad.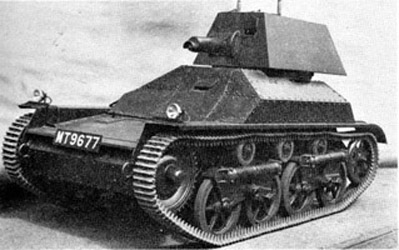 Vickers Light Tank Mark II
Petite série complémentaire (29 exemplaires) de chars légers Mark II commandé à la Royal Ordnance Factory en juin 1931. Très similaire aux Mark II sinon qu'il ne dispose que de deux rouleaux porteurs sur les côtés et non 3 comme sur le Mark II.
Small complementary series (29 copies) of light tank Mark II commissioned to the Royal Ordnance Factory in June 1931. Very similar to the Mark II but has only two return rollers on the sides and not 3 as on the Mark II.
| | |
| --- | --- |
| | |
| Vickers Light Tank Mark IIA | Vickers Light Tank Mark IIA Indian Pattern |
| | |
Type: Light Tank
Crew: 2
Number built: small series

Length:

3.58 m |

Width:

1.92 m |

Height:

2.02 m |

Weight:

about 4500 kg
Armament
Main:

.303 (7.7mm) Vickers MG |

Ammo:

? rounds |

Secondary:

- |

Ammo:

- rounds
Armor
Maximum:

10 mm |

Minimum:

4 mm
Automotive & Suspension
Engine:

Meadows EPT gasoline |

Horsepower:

85 hp |

Power/weight ratio:

? hp/t


Suspension:

Horstmann
Performances
Maximum Speed : 48 km/h | Range: 279 km
Petite série supplémentaire (21 exemplaires) commandée par la firme Vickers en juillet 1931.

Small additional series (21 copies) commissioned by the Vickers company in July 1931.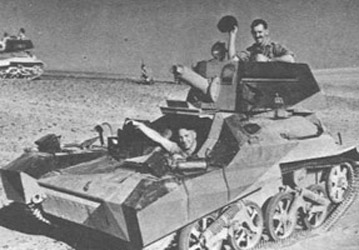 Vickers Light Tank Mark IIB
Le version III différait peu des versions précédentes mais avait une tourelle plus petite et étroite. Ce char fut produit à 36 exemplaires en 1934.
Version III differed little from the preceding versions but had a smaller and narrow turret. This tank was produced with 36 specimens in 1934.
Vickers Light Tank Mark III

src:

Connaissance de l'Histoire, HS n°3, Hachette
La quatrième version fut la première à être dotée d'une caisse blindée autoportante. La superstructure était plus haute et les poulies de tension des chenilles était supprimée. Le tendeur des chenilles était lié au second galet du deuxième bogie. Le Mark IV avait un moteur développant 88 cv (capable de propulser le char à 56 km/h) lié à une boîte de vitesses à 4 vitesses synchronisées. Le blindage était épais de 12 mm en moyenne. Le Mark IV pesait 4.675 tonnes, mesurait 3.40 m de long, 2.13 m de haut et 2.06 m de large.
The fourth version was the first equipped with a self-supporting armoured hull. The superstructure was higher and the idlers of the tracks was removed. The tensioner of the tracks was related to the second road-wheel of the second bogie. Mark IV had an engine developing 88 hp (able to propel the tank to 56km/h) related to a gear box with 4 synchronized speeds. The shielding was thick 12 mm on average. Mark IV weighed 4.675 tons, was 3.40 m long, 2.13 m in height and 2.06 m broad.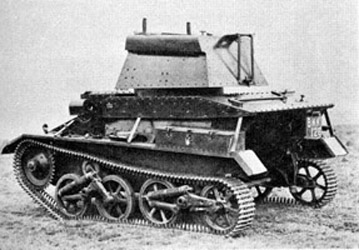 Vickers Light Tank Mark IV
Un seul homme pour commander le char, utiliser l'armement et le poste radio, c'était vraiment peu et le pauvre homme était surchargé. Un deuxième homme dans la tourelle n'était pas un luxe. Le Mark V fut le premier modèle de la série doté d'une tourelle biplace et également d'un armement plus puissant puisqu'il était armé d'une mitrailleuse Vickers .50 de 12.7 mm, couplée à une Vickers .303 de 7.7 mm. Les 12 premiers chars de ce type furent expérimentés en 1934. La tourelle était dotée d'un tourelleau et d'un radio-mitrailleur pour décharger le chef de char. En raison de son poids accru (4.5 tonnes), le Mark V ne pouvait guère plus dépasser les 50 km/h mais avec la même autonomie que la Mark IV. La suspension du Mark V était identique à celle du Mark IV. Le Mark V mesurait 3.68 m de long, 2.21 m de haut et 2.06 m de large. Un total de 22 chars fut réalisé en 1935.
Only one man to order the tank, to use the radio and armament, it was really little and the poor man was overloaded. A second man in the turret was not a luxury. The Mark V was the first model of the series equipped with a two-seater turret and also with a more powerful armament since it was armed with a machine-gun Vickers .50 of 12.7 mm, coupled to Vickers .303 of 7.7 mm. The first 12 tanks of this type were tested in 1934. The turret was equipped with a cupola and a radio-machine gunner to discharge the chief of the tank. Because of its increased weight (4.5 tons), the Mark V could hardly more exceed the 50 km/h but with same autonomy as Mark IV. The suspension of the Mark V was identical to that of Mark IV. The Mark V was 3.68 m long, 2.21 m in height and 2.06 m broad. A total of 22 tanks was carried out in 1935.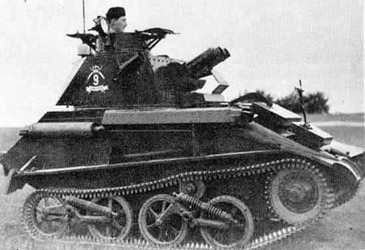 Vickers Light Tank Mark V
src:
Connaissance de l'Histoire, HS n°3, Hachette


Sources:
Les Blindés de la Seconde Guerre Mondiale, Ed. Atlas