Trucks
Rocket Launchers
Les Russes durant la deuxième guerre mondiale, furent les premiers à développer et produire à grande échelle des lanceurs de roquettes. Ces armes très impressionnantes, aux effets psychologiques dévastateurs deviendront célèbres sous le nom "d'orgues de Staline". Pour leur conférer, une plus grande mobilité, les Soviétiques installèrent leur lanceurs sur des camions. Ce fut une réussite très économique qui permis aux Russes de surclassé les Allemands au niveau de la mobilité des lanceurs. Ces derniers ayant besoin de véhicules plus sophistiqués (Halftracks Sd.Kfz.4/1 et sWS) pour leurs Nebelwerfer et la plupart des lanceurs allemands étaient simplement remorqués. Les Russes gagnèrent une fois de plus la guerre du nombre et de la mobilité grâce à des modèles simples et produits en très grands nombres.
The Russians during the second World War, were the first ones to develop and produce on a large scale rocket-launchers. These very impressive weapons, to the devastating psychological effects will become famous under the name "Organs of Staline". To confer for them, a bigger mobility, the Soviet installed their launchers on trucks. This was a success very economical that allowed the Russians to outclass the Germans at the level of the mobility of the launchers. The latter needing more complicated vehicles (Halftracks Sd.Kfz.4/1 and sWS) for their Nebelwerfer and most of the German launchers simply were towed. The Russians won once of more the war of the number and mobility thanks to simple models, producted in very big numbers.
BM-13 in action
Le BM-13 fut le premier modèle de lance-roquettes multiple opérationnel en Union soviétique. Il fut testé durant l'été 1939 et sa production démarra dès décembre 1939. Cette arme dévastatrice fut utilisée pour la première fois au combat contre les Allemands le 14 juillet 1941 sur le front central. Ce modèle fut le lanceur le plus commun dans les forces russes durant toute la guerre. Il connu la célébrité sous le nom de Katiouchka (petite Catherine) chez les Russes et en tant qu'Orgue de Staline chez les Allemands. Le BM-13 est en fait le nom du lanceur. Ce dernier pouvait être monté sur différents camions comme le ZIS-6 russe ou des camions étrangers comme le Studebaker. Il fut également monté sur des tracteurs chenillés GAZ-63 ou sur des chars légers T-60 ou T-70.
The BM-13 was the first model multiple rocket-launcher operational in Soviet Union. It was tested during the summer 1939 and its production started as early as December 1939. This devastating weapon was used for the first time in battle against the Germans July 14 1941 on the Central front. This model was the launcher more common in the Russian forces during the whole war. It known the fame under the name of Katiouchka (small Catherine) with the Russians and as Organ of Staline with the Germans. The BM-13 was the name of the launcher. The latter could be mounted on different trucks as the Russian ZIS-6 or foreign trucks as the Studebaker. It was equally mounted on tracked tractors GAZ-63 or on light tanks T-60 or T-70.
BM-13 on ZIS-6 truck.
| | |
| --- | --- |
| | |
| BM-13 | BM-13 on Studebaker 6x6 truck. |
| src: Les Uniformes et les Armes des soldats de la Guerre 1939-1945, Ed Casterman | |
Le BM-16 pouvait lancer en même temps 16 roquettes M-13 de 132 mm. Ces roquettes mesuraient 1.90 m de long et avaient une portée de 8500 m. La charge explosive était de 20 kg.
The BM-16 could launch at the same time 16 rockets M-13 of 132 mm. These rockets measured 1.90 m in lengthand had a range of 8500 m. The explosive load was of 20 kg.
Le BM-31 était un lanceur de roquettes multiple (310 mm) monté sur un camion ZIS-6 ou Studebaker.
BM-31 was a multiple rocket-launcher (310 mm) mounted on trucks ZIS-6 or Studebaker.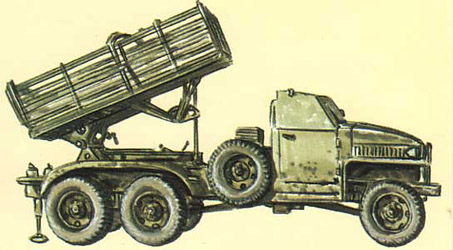 BM-31 on Studebaker 6x6 truck.
src: Les Uniformes et les Armes des soldats de la Guerre 1939-1945, Ed Casterman
Lance-roquettes multiple à 36 tubes monté sur un camion ZIS-6. Le BM-8 mettait à feu des roquettes de 82 mm M8 (portée 5500 m). Une version à 48 tubes (BM-8/48) fut également réalisée mais ce lanceur était cette fois monté sur un camion 6x6 Studebaker américain.
Multiple rocket-launcher with 36 tubes mounted a truck ZIS-6. The BM-8 put to fire rockets of 82 mm M8 (range of 5500 m). A version with 48 tubes (BM-8/48) was equally realized but this launcher this time was mounted on an American truck 6x6 Studebaker.
BM-8 on Studebaker 6x6 truck.
src: Les Uniformes et les Armes des soldats de la Guerre 1939-1945, Ed Casterman


Sources:
Les blindés de la Seconde Guerre Mondiale, Ed. Atlas