BA-20 Light Armored Car
En 1936, le successeur du FAI-M, le BA-20 fait son apparition. Cette voiture blindée légère était basée sur le châssis du GAZ-M1 également mais avait un blindage plus épais et une tourelle à angles. La version de commandement était équipée d'une antenne cadre qui fut remplacée par une antenne fouet sur la version améliorée, la BA-20M. Une version sur rail fut également réalisée, la BA-20ZhD et produite en petites quantités. La production de la BA-20 fut assurée par l'usine Vykunskiy.
In 1936, the successor of the FAI-M, the BA-20 does its apparition. This light armored car was based on the chassis of the GAZ-M1 equally but had a thicker armor and an angled turret plates. The command version was equipped of an antenna-frame that was replaced by an antenna whip on the improved version, the BA-20M. A version on rail was equally realized, the BA-20ZhD and produced in small quantities. The production of the BA-20 was assured by the factory Vykunskiy.
BA-20 Light Armored Car
En 1939, cette usine développa une version 3 essieux de la BA-20 sur base du 6x4 GAZ-21, la BA-21. Cependant ce projet comme celui de l'usine n°38, le LB-23 (châssis de GAZ-22) fut finalement abandonné.
L'équipage était composé de 2 à 3 hommes. L'armement consistait en une mitrailleuse DT de 7.62 mm approvisionnée avec 1386 balles. Le blindage était composé de plaques de blindage de 4 à 6 mm d'épaisseur. La BA-20 mesurait en longueur 4.11 m, en largeur 2.13 m, en hauteur 1.78 m et pesait 2.340 à 2.560 kg. La BA-20 était propulsée par un moteur GAZ-M1 développant 50 cv, pouvait atteindre 90 km/h sur route et parcourir 350 km avec son propre carburant.
In 1939, this factory developed a 3-axles version of the BA-20 on the basis of the 6x4 GAZ-21, the BA-21. Nevertheless this project as the one of the factory n°38, the LB-23 (GAZ-22 chassis) finally was abandoned.
The crew was composed from 2 to 3 men. The armament consisted in a machine gun DT of 7.62 mm supplied with 1386 bullets. Armor was composed from armor plates of 4 to 6 mm of thickness. The BA-20 measured in length 4.11 m, in width 2.13 m, in height 1.78 m and weighed 2.340 to 2.560 kg. The BA-20 was propelled by an engine GAZ-M1 developing 50 hp, could attain 90 km/h on road and traverse 350 km with its own fuel.
Variants

•BA-20M: Véhicule entièrement soudé, doté d'un blindage plus épais et d'une tourelle améliorée.
•BA-20V: Véhicule de commandement avec antenne-cadre autour de la caisse.
•BA-20 Sh.d (Shelesnaya Doroga): Véhicule modifié pour rouler sur rails.
•BA-20 ZhD Drezine: Idem que le précédent mais en plus pouvait être intégré à un convoi ferroviaire.
| | |
| --- | --- |
| | |
| BA-20M Light Armored Car | BA-20V Light Armored Car |
| | |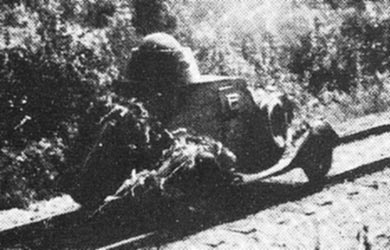 BA-20 Zhd Light Armored Car
Type: Light Armored Car
Crew: 2 (Commander-gunner, driver)
Number built: 4800 (from 1935) at Novgorod factory, Vyksinskiy

Length:

4.31 m |

Width:

1.52 m |

Height:

1.80 m |

Weight:

2500 kg
Armament
Main:

1 x 7.62 mm DT MG |

Ammo:

? rounds |

Secondary:

- |

Ammo:

- rounds
Armor
Maximum:

6 mm |

Minimum:

4 mm
Automotive & Suspension
Engine:

GAZ-M1 4-cyl. Gasoline |

Horsepower:

54 hp |

Power/weight ratio:

21.6 hp/t


Suspension:

leaf spring, 4x2
Performances
Maximum Speed : 90 km/h | Range: 350 km


Sources:
Les blindés de la Seconde Guerre Mondiale, Ed. Atlas