Heavy Armored Cars (6-Wheels)
BA-6
En 1935, l'usine GAZ, débuta la production du camion à 3 essieux GAZ-AAA. L'usine Izhorskij développa en vitesse une nouvelle voiture blindée, la BA-6 basé sur le châssis de ce véhicule. La caisse, la tourelle, la disposition des munitions et l'équipement avaient subis peu de modifications par rapport au modèle antérieur. La principale innovation était l'absence à l'arrière de la porte de secours, de la fenêtre d'observation. L'empattement du train arrière passa de 1585 mm (BA-3) à 1600 mm et la distance entre l'essieu frontal et le centre de la suspension passa de 3220 mm (BA-3) à 3200 mm, la distance entre les essieux arrières passa de 1016 mm (BA-3) à 940 mm. Autre innovation, la BA-6 utilisait des pneus GK à l'épreuve des balles en caoutchouc poreux.
In 1935, the factory GAZ, started the production of the 3-axles truck GAZ-AAA. The factory Izhorskij developed in speed an new armored car, the BA-6 based on the chassis of this vehicle. The hull, the turret, the disposal of the ammo and the equipment had undergone few modifications in comparison with the previous model. The principal innovation was the absence to the back of the escape door, observation window. The wheel-base of the rear running gear passed of 1585 mm (BA-3) to 1600 mm and the distance between the frontal axle and the center of the suspension passed of 3220 mm (BA-3) to 3200 mm, the distance between the rear axles passed of 1016 mm (BA-3) to 940 mm. Other innovation, the BA-6 used bullet-proof tires GK in porous rubber.
BA-6
45 mm 20K (1938) - Penetration Board (mm)

Ammo

Weight(kg)

Velocity

Angle (°)

100 m

500 m

1000 m

1500 m

2000 m

BR-240 SP

2.45

759 m/s

30

43

31

20

14

4

BR-240 P

1.48

970 m/s

30

52

37

24

16

4
La BA-6 pesait 5.12 tonnes. L'usine Izhorskij produisit 386 exemplaires de la BA-6 entre 1936 et 1938.
The BA-6 weighed 5.12 tons. The factory Izhorskij produced 386 copies of the BA-6 between 1936 and 1938.
Type: Heavy Armored Car
Crew: 4 (Commander, gunner, front gunner, driver)
Number built: BA-6: 366, BA-6M: 20 (Total: 386) from 1935 at Izhorskly plant

Length:

4.90 m |

Width:

2.07 m |

Height:

2.36 m |

Weight:

5100 kg
Armament
Main:

45 mm 20-K Gun |

Ammo:

60 rounds |

Secondary:

2 x 7.62 mm DT |

Ammo:

? rounds
Armor
Maximum:

15 mm |

Minimum:

6 mm
Automotive & Suspension
Engine:

GAZ A , 4 cylinder (petrol) |

Horsepower:

40 hp |

Power/weight ratio:

7.84 hp/t


Suspension:

leaf spring, 6x4
Performances
Maximum Speed : 55 km/h | Range: 200 km
The BA-6ZhD
La BA-6ZhD est une version ferroviaire de la BA-6 produite en nombres très limités. Des roues spéciales pour ce type de voyage étaient montées à la place des roues conventionnelles. Cette version pesait 5.9 tonnes et pouvait atteindre les 55 km/h sur rail.
The BA-6ZhD was a rail version of the BA-6 produced in very limited numbers. Special wheels for this otype f movement were installed to the place of the conventional wheels. This version weighed 5.9 tons and could attain the 55 km/h on rail.
BA-6ZhD
BA-6M(BA-9)
En 1936, une version expérimentale de la BA-6, la BA-6M fut mise au point. Cette version disposait d'une tourelle conique épaisse de 10 mm, d'un poste radio 71-TK-1 et était propulsé par un moteur GAZ-M développant 50 cv. La BA-6M pesait 4800 kg.
In 1936, an experimental version of the BA-6, the BA-6M was realized. This version had a conical turret thick of 10 mm, a 71-TK-1 radio station and was propelled by a engine GAZ-M developing 50 hp. The BA-6M weighed 4800 kg.
BA-6M
12.7 mm DShK 38 - Penetration Board (mm)

Ammo

Weight(kg)

Velocity

Angle (°)

100 m

500 m

1000 m

1500 m

2000 m

AP

0.096

850 m/s

0

24

-

-

-

-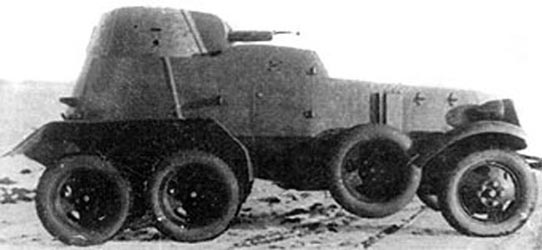 BA-9
Une version allégée de la BA-6M, la BA-9 fut également mise au point. La BA-9 était armée d'une mitrailleuse lourde de 12.7 mm DK à la place du canon. Cette version devait être produite à 100 exemplaires pour la Cavalerie mais en raison du manque de mitrailleuse DK disponible cette commande ne fut jamais réalisée.
A low-fat version of the BA-6M, the BA-9 was equally perfected. The BA-9 was armed of a heavy machine gun of 12.7 mm DK to the place of the gun. This version had to be produced to 100 copies for the Cavalry but because lack of the DK machine gun available this order never was realized.


Sources:
Les blindés de la Seconde Guerre Mondiale, Ed. Atlas