Lend-Leased Vehicles
Les Américains établirent la fameuse loi du lend/lease afin de soutenir la Grande-Bretagne dans sa lutte désespérée mais au combien primordiale contre l'Allemagne hitlérienne triomphante en 1940. Quand cette dernière attaqua l'Union soviétique en juin 1941, la loi fut étendue aux Russes. Cette loi était un vaste système de fourniture de matériel de guerre, de nourriture, de carburant et autre matériels. Les Soviétiques écrasés par les Panzerdivisions lors des premiers mois de la Grande guerre patriotique étaient très content de disposer de ces fournitures en raison des terribles pertes encourues durant Barbarossa. A partir de 1941, le RKKA mettra à disposition des forces blindées soviétiques un nombre important de véhicules de combat d'origine étrangère, principalement en provenance des USA, mais aussi de Grande-Bretagne et du Canada. Environ 22800 véhicules de combat de toutes sortes furent livrés à l'URSS entre le 22 juin 1941 et le 30 avril 1944 (notons que 2000 autres véhicules furent perdus en mer avant réception). A ce total il faut également ajouter 351700 camions , 78000 jeeps et 35000 motos tous en provenance des USA, véritable arsenal des forces anti-facisme. Grâce à ces derniers l'Armée rouge pus sensiblement augmenter sa motorisation et sa mobilité.
The American created lend/lease law in order to support the Great Britain in its hopeless but important/essantial fight against triumphant Hitlerian Germany in 1940. When this last attacked the Soviet Union in June 1941, the law was spread to the Russians. This law was a vast supply system of war equipment, food, of fuel and other equipment. The Soviets crushed by the Panzerdivisions at the time of the first months of the Great patriotic war were very happy to have access to these supplies because of the terrible losses incurred during Barbarossa. From 1941, the RKKA will put at the disposal of the Soviet armored forces an important number of fight vehicles of foreign origin, principally in origin of the USA, but also of Great Britain and Canada. About 22800 fight vehicles of all type were delivered to the USSR between June 22 1941 and April 30 1944 (note that 2000 other vehicles were lost in sea before reception). To this total it is necessary equally to add 351700 trucks, 78000 jeeps and 35000 bikes all in origin of the USA, true arsenal of the forces anti-anti-facism. Thanks to the latter the red army noticeably increased its motorization and mobility.
Durant 1941, les Russes réceptionnèrent de la Grande-Bretagne, 487 chars Matilda, Valentine et Tetrach et des USA 182 chars M3A1 Stuart et M3 Lee. En 1942 viennent s'ajouter 2487 chars en provenance de la Grande-Bretagne et 3023 chars en provenance des USA. Les premières unités équipées de Valentines et de Matilda II furent utilisées dans les régions de Staraya Russia et Valdai durant l'hiver 1941/1942. Chaque unité était équipée de chars de même type pour faciliter la maintenance. Durant les années 1944-1945, le M4A2 Sherman américains était le chars étrangers le plus apprécié par les Russes et plusieurs corps de chars et corps mécanisés étaient entièrement équipés de ce char.
During 1941, the Russians received of the Great Britain, 487 tanks Matilda, Valentine and Tetrach and of USA 182 tanks M3A1 Stuart and M3 Lee. In 1942 comings to add 2487 tanks from Great Britain and 3023 tanks from USA. The first units equipped of Valentines and of Matilda II were used in the regions of Staraya Russia and Valdai during the winter 1941/1942. Every unit was equipped of tanks of same type to facilitate maintenance. During the years 1944-1945, the American M4A2 Sherman was the foreign tanks the more appreciated by the Russians and several tank corps and mechanized corps completely were equipped of this tank.
L'effort des Britanniques pour fournir des chars à l'URSS est assez admirable vu leur situation peu enviable dans les premières années de la guerre, bien illustrée par le manque de chars rencontré par leurs armées d'Afrique. Tous ces véhicules jouèrent un grand rôle premièrement dans le ralentissement et l'arrêt de la pénétration allemande, puis dans le rouleau compresseur qui repoussa les forces allemandes jusqu'à Berlin quoiqu'en dise la propagande soviétique qui n'hésita pas à nier l'importance de l'aide fournie par les grands rivaux occidentaux.
The effort of the Britisher to furnish tanks to USSR was rather admirable because their position was not very enviable in the first years of the war, well illustrated by the lack of tanks met by their African armies. All these vehicles played a big role, first in the slowdown and the stop of the German penetration, then in the roll compressor that pushed back German forces to Berlin although some says Soviet propaganda that didn't hesitate to deny the importance of the assistance furnished by the big western rivals.
List of foreign vehicles in the red army:
British Vehicles

Churchill (6-pdr): 301
Matilda Mr.II: 1084
Cromwell: 6
Tetrarch: 20
Universal Carrier
Valentine Mk.II/IV/IX
Valentine Bridgelayer: 25

Canadian Vehicles

Universal Carrier
Valentine Mk.IX/XI

US Vehicles

M3/M3A1 Stuart: 1386/1676
M3 Lee: 1386
M31 ARV: 115
M4A2 Sherman (75/76): 2007/2095
M3A1 Scout Car
M3 Halftrack
M3A1 Halftrack
M1 Heavy Tractor (HD-10W): 415
M1 Heavy Tractor (TD-15): 494
M5 High Speed Tractor: 5
M7 Priest
M10 Wolverine: 52
M18 Hellcat: 5
M24 Chaffee: 2
M26 Pershing: 1
T48 GMC Halftrack: 650
M15A1 MGMC Halftrack: 100
M17 MGMC Halftrack: 1000
| | |
| --- | --- |
| | |
| US GMC CCKW-353 | British Churchill (6-pdr) |
| | |
US M3 Lee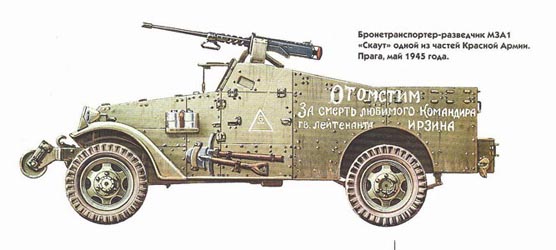 US M3A1 Scout Car
US M3A1 Scout Car
| | |
| --- | --- |
| | |
| US M3A1 Stuart | US M3 Halftrack |
| | |
| | |
| --- | --- |
| | |
| US M4A2(76) Sherman | US M4A2(76) Sherman |
| | |
| | |
| --- | --- |
| | |
| US M4A2(76) Sherman | US M4A2(76) Sherman |
| | |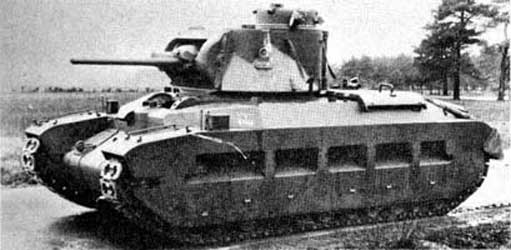 British Matilda
| | |
| --- | --- |
| | |
| US M5 Stuart | US Studebaker US6 |
| | |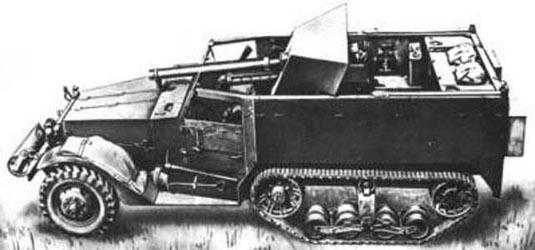 US T48 57 mm GMC Halftrack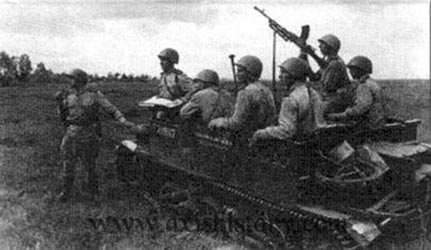 British Universal Carrier
| | |
| --- | --- |
| | |
| British Valentine | British Valentine |
| | |
DRAWINGS
Light Tanks
Medium Tanks
Heavy Tanks
Tank Destroyers & SPGs
Other Full-Tracked Vehicles
Halftracks
Armored Cars
Light Vehicles
Trucks
Motos


Sources:
Les blindés de la Seconde Guerre Mondiale, Ed. Atlas