SU-122 Assault Gun
Genesis
Les Allemands rencontrèrent beaucoup de succès avec leurs canons d'assaut StuG III très efficaces et peu coûteux. Les Russes qui manquaient de ce genre de véhicule dotés d'un compartiment de combat plus spacieux, d'un blindage frontal plus épais et d'un armement plus puissant qu'un char classique. En avril 1942, le GAU invita plusieurs bureaux de conception de développer un canon d'assaut armé d'un canon de 122 mm ou plus. Tous ces travaux furent coordonnés par le Ministère de l'industrie des blindés (NKTP). Deux de ces projets furent réalisés en métal.
The German met a lot of successes with their assault guns StuG III very effective and not very costly. The Russians that lacked this vehicle kind endow with a fight compartment more spacious, a frontal armor thicker and a more powerful armament than a classical tank. In April 1942, the GAU invited several design offices to develop an assault gun armed of a gun of 122 mm or more. All these works were coordinated by the Ministry of the tank industry (NKTP). Two of these projects were realized in metal.
SU-122
Le premier modèle, était le U-35 de Uralmash et le second, le SG-122(A) de l'usine n°592. Le U-35 était un T-34 doté d'une large superstructure blindée installée à la place du compartiment de combat et de la tourelle. Cette superstructure accueillait l'obusier M-30 de 122 mm. Le SG-122(A) était quant à lui un ex-StuG III allemand modifié et équipé du même armement que l'U-35. En juillet 1942, le SG-122 fut accepté pour le service, mais l'expérience aidant fut vite considéré comme un échec et le manque de pièces de rechange disponibles rendait sa maintenance aléatoire. En décembre 1942, après plusieurs tests, le U-35 fut accepté pour le service et le GKO ordonna immédiatement la production du nouveau canon d'assaut renommé SU-122. A la fin de 1942, 25 exemplaires avaient été produits. A partir de cette date 1123 autres exemplaires furent fabriqués par Uralmash.
The first model, was the U-35 of Uralmash and the second, the SG-122(A) of factory n°592. The U-35 was a T-34 endow with a wide armored superstructure installed to the place of the fight compartment and turret. This superstructure welcomed the howitzer M-30 of 122 mm. The SG-122(A) was for its part a former German StuG III modified and equipped of the same armament that the U-35. In July 1942, the SG-122 was accepted for the service, but the experience helping was quickly considered as a failure and the lack of replacement pieces available returned its maintenance random. In December 1942, after several tests, the U-35 was accepted for the service and the GKO ordered immediately the production of the new assault gun renamed SU-122. At the end of 1942, 25 copies had been producted. From this date 1123 other specimens were made by Uralmash.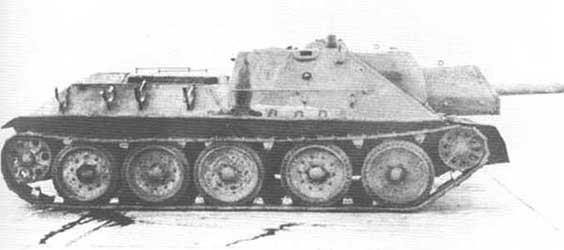 SU-122
En mars 1943, Uralmash proposa de moderniser le SU-122. La nouvelle version nommée SU-122M était dotée d'un nouveau compartiment de combat et d'un nouveau obusier de 122 mm U-11. Le U-11 utilisait les mêmes munitions que le M-30. Un des deux chargeurs fut supprimés en raison de l'amélioration du mécanisme de chargement. Les tests gouvernementaux sur le SU-122M révélèrent plusieurs défauts et la surcharge du châssis. Ce modèle était également très coûteux et ne fut donc pas accepté pour le service.
In March 1943, Uralmash proposed to modernize the SU-122. The new version named SU-122M was endowed with anew fight compartment and of a new howitzer of 122 mm U-11. The U-11 used the same ammo that the M-30. One of the two loaders was eliminated because of the improvement of the aiming mechanism. The governmental tests on the SU-122M shown several defects and the overloads of the chassis. This model was equally very costly and was not therefore accepted for the service.
SU-122M
Malgré l'échec du SU-122M, Uralmash effectua une autre tentative de moderniser le SU-122 basé sur un nouveau concept d'unification des éléments de base des chars russes. Le nouveau modèle avait beaucoup de similitudes avec le SU-85 mais cependant était armé du 122 mm D-6 à la place du 85 mm D-5T. Le D-6 était plus compact que le U-11 tout en ayant les même capacités balistiques et les mêmes munitions. Le Su-122-3 avait le même masque que le sU-85. Après plusieurs tests avec la version modernisée du SU-85, le SU-122-3 ne fut finalement pas retenu pour le service.
Despite the failure of the SU-122M, Uralmash realized another attempt to modernize the SU-122 based on a new concept of unification of the basic elements of the Russian tanks. The new model had a lot of similitudes with the SU-85 but nevertheless was armed of the 122 mm D-6 to the place of the 85 mm D-5T. The D-6 was more compact than the U-11 but had the same ballistic capacities and same ammo. The Su-122-3 had the same mantlet that the SU-85. After several tests with the modernized version of the SU-85, the SU-122-3 finally was not kept for the service.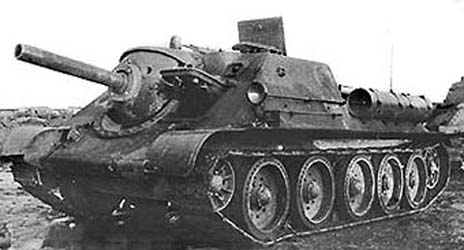 SU-122-3
Quelques SU-122 furent réalisés sur base du SU-100 mais cette variante ne fut jamais produite en masse.
Some SU-122 were realized on the basis of the SU-100 but this variant never was produced in mass.


Sources:
Les blindés de la Seconde Guerre Mondiale, Ed. Atlas