T-100 Heavy Tank
Le T-100 (aussi nommé Sotka en russe = 100) est un char lourd muli-tourelles, conçu en 1938-1939. Ce char fut développé comme char super lourd de rupture à l'Usine 185 de Kirov à Léningrad. Le T-100 fut développé à l'instigation de l'Armée rouge afin de remplacer le T-35, autre char multi-tourelles, suite aux rapports de combat de la Guerre civile espagnole bien que le T-35 n'y participa pas. Cependant la protection du T-35 était à l'évidence insuffisante face aux canons anti-chars tractés ou montés sur char, rencontrés par les chars T-26 et BT engagés en Espagne.
T-100 (also named Sotka in Russian = 100) is a muli-turrets heavy tank, designed in 1938-1939. This tank was developed like a super heavy breakthrought tank by Factory N°185 of Kirov at Leningrad. T-100 was developed to the instigation of Red Army in order to replace T-35, another multi-turrets tank, following the reports of combat of the Spanish Civil war although T-35 did not take part in it. However the protection of T-35 was insufficient obviousness vis-a-vis the towed ant tank mounted anti-tank guns, met by T-26 and BT tanks engaged in Spain.
Le T-100 fut développé conjointement avec le SMK (un projet fort similaire). Bien que les spécifications initiales prévoyaient un char à cinq tourelles capable de résister aux canons de 37 mm même à bout portant et aux canons de 76.2 mm à 1200 m. Cependant les équipes d'ingénieurs des deux projets objectèrent que les chars multi-tourelles étaient inadéquats et peu efficaces sur un champ de bataille. Les spécifications furent donc réduites à deux tourelles seulement. Comme le SMK le T-100 devait être doté d'un blindage assemblé par soudures, d'équipement radios et d'une suspension à barres de torsion.
Le châssis du T-100 était assez long afin de placer l'une derrière l'autre les deux tourelles. La tourelle montée à l'avant du char accueillait un canon de 45 mm. Cette tourelle (à cause de celle placée derrière elle) disposait d'un champ de tir horizontal limité. La tourelle principale montée au centre accueillait un canon de 76.2 mm. Cette tourelle montée plus en hauteur pouvait couvrir de son feu un champ de tir horizontal complet (360°). La suspension à barres de torsion comportait pas moins de 8 double galets.
T-100 was developed jointly with the SMK (an extremely similar project). Although the initial specifications envisaged a tank with five turrets able to resist to the guns of 37 mm in all distance and to the guns of 76.2 mm after 1200 m. Cependant engineers teams of the two projects objected that the tanks multi-turrets were inadequate and not very effective on a battle field. The specifications were thus reduced to two turrets only. As the SMK, T-100 was to be equipped of a a welded shielding, radios and d' a suspension with torsion bars.
The chassis of T-100 was rather long in order to place one behind other, the two turrets. The front mounted turret had a gun of 45 mm. This turret had (because of that placed behind it) a limited horizontal field of fire. The main turret assembled in the center accomodated a gun of 76.2 mm. This turret assembled more in height could cover with its fire a complete horizontal field of fire (360°). The suspension with torsion bars did not comprise less than 8 double road-wheels.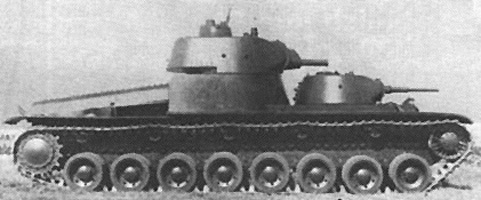 T-100 (early)
Comme pour le SMK, le prototype T-100 fut brièvement testé durant la "Guerre d'Hiver" contre la Finlande en 1939 et cela sans guère de succès. Le concept archaïque du char multi-tourelles, la pauvre mobilité de tels monstres ne plaidaient pas en leur faveur. De plus dans la même période de temps, un char lourd plus moderne, plus conventionnel et mieux blindé, le char KV-1 fut développé et mis en production. Ce dernier gagna la préférence des décideurs russes. Le prototype du T-100 donnera naissance au canon automoteur SU-100Y qui ne connu pas plus de succès. Le prototype du SU-100Y participa cependant à la défense de Moscou fin 1941.
Notons également qu'une tourelle fut réalisée pour accueillir un obusier de 152 mm en 1940 pour une version appelée T-100Z. Un autre projet basé sur le châssis du T-100 fut l'Objekt-103. Ce char était doté d'une seule tourelle accueillant un canon naval de 130 mm B-13. Tous ces projets furent des projets de papier.
As for the SMK, the T-100 prototype was briefly tested during the "Winter War" against Finland in 1939 and that without success. The antiquated concept of the tank multi-turrets, the poor mobility of such monsters did not plead in their favour. Moreover during the same time of time, a more modern, more conventional k and better armored heavy tank, the KV-1 was developed and put in production. This last gained the preference of the Russian decision makers. The prototype of T-100 will give rise to the self-propelled gun SU-100Y which known also little of success. The prototype of the SU-100Y took part however in the defense of Moscow at the end of 1941.
Also let us note that a turret was produced to accomodate an howitzer of 152 mm in 1940 for a version named T-100Z. Another project based on the chassis of T-100 was the Objekt-103. This tank was equipped of a single turret accomodating a naval gun of 130 mm B-13. All these project were paper projects.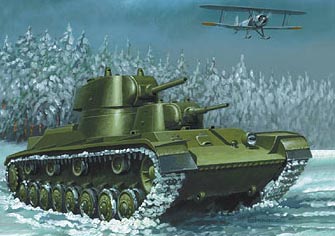 T-100 (late)


Sources:
Les blindés de la Seconde Guerre Mondiale, Ed. Atlas