T-34/85 Medium Tank
Ce modèle était équipé d'une tourelle pouvant accueillir seulement deux hommes (pour un équipage total de 4 hommes). La coupole du commandant était dotée de deux volets (pivotant sur appui à roulement à billes) et était montée fort en avant. Cette tourelle était aussi dotée d'un périscope MK-4 rotatif monté sur le toit, d'une mitrailleuse coaxiale, d'une lunette télescopique PTK-5. Sur les côtés de la tourelle étaient disposés deux fentes d'observation couvertes de verre triplex.
This model was equipped of a turret being able to welcome only two men (for a total crew of 4 men). The cupola of the commander was endowed with two shutters (pivoting on support with marbles rumble) and was mounted strong forward. This turret also was endowed with a rotary periscope MK-4 mounted on the roof, a coaxial machine gun, telescopic sight PTK-5. On the sides of the turret were disposeed two slits of observations covered of glass triplex.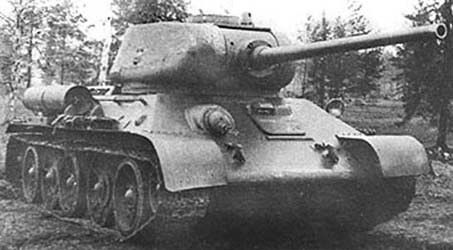 T-34/85 1943 (85 mm D-5T)
Le poste radio était installé dans la caisse et son antenne se trouvait comme sur le T-34/76 sur le flanc droit du char. Qui dit munitions de plus grand calibre, dit moins de munitions transportables. En effet le basic load pour le canon de 85 mm était de 56 unités. Celui pour les mitrailleuses de 7.62 mm était de 1953 unités. Quant au moteur, à la transmission et le châssis il ne variaient guère sinon pas par rapport au T-34/76. Les premiers modèles étaient dotés d'un seul ventilateur de tourelle, alors que les suivants furent équipés de deux ventilateurs de tourelle.
Il est bien difficile de déterminer le nombre d'exemplaires produits pour ce modèle. A la base on parle de 500 à 800 chars mais le nombre pourrait être sensiblement inférieur. En effet en 1943, 283 canons D-5T seulement avaient été produits, suivis en 1944 par 260 autres, soit un total de 543 exemplaires. Il faut en retirer 107 exemplaires qui furent montés sur des chars lourds IS-1, 100-130 exemplaires qui furent montés sur des chars lourds KV-85, et quelques autres utilisés sur des prototypes. En définitive environ 300 T-34s purent prétendre recevoir ce canon.
The radio station was installed in the hull and its antenna was located as on the T-34/76 on the right flank of the tank. Ammo of bigger calibre = less ammo. In fact the basic load for the gun of 85 mm was of 56 unities. The one for the machine guns of 7.62 mm was of 1953 unities. As for the engine, the transmission and the chassis it did not vary hardly otherwise in comparison with the T-34/76. The first models were endowed with an alone fan of turret, while the following ones were equipped of two fans of turret.
It is well difficult to determine the number of specimens producted for this model. One talks about 500 to 800 tanks but the number could be inferior noticeably. In fact in 1943, 283 canons D-5T only had been producted, follow in 1944 by 260 others, thus a total of 543 copies. It is necessary to withdraw 107 copies that were mounted on heavy tanks IS-1, 100-130 copies that were mounted on heavy tanks KV-85, and some used on other prototypes. In final about 300 T-34s receveid this gun.
Le canon de 85 mm S-53 fut accepté par l'armée rouge le 1er janvier 1944 et la production débuta en mars. Toujours en mars, débuta la production de T-34/85 armés de ce canon avec la tourelle de Nizhnij Tagil (usine 183). Cette usine fut ensuite secondée par l'usine 174 de Omsk et l'usine 112 "Krasnoye Sormovo". Durant ce temps, étonnemment , les essais se poursuivaient, et mirent en évidence plusieurs défauts sur le mécanisme de recul. L'usine 92 de Gorki fut chargée de résoudre ce problème et en novembre-décembre 1944 débuta la production d'un nouveau canon appelé ZIS-S-53. Au total 11518 S-53 et 14265 ZIS-S-53 furent produits durant 1944-1945. Le ZIS-S-53 fut également installé sur le T-44.
The gun of 85 mm S-53 was accepted by the red army the 1st January 1944 and the production started in March. Always in March, started the production of T-34/85 armed of this gun with the turret of Nizhnij Tagil (factory 183). This factory was assisted after by the factory 174 of Omsk and the factory 112 "Krasnoye Sormovo". During this time, astonishement, the essays continued, and shown several defects on the recoil mechanism. The factory 92 of Gorki was in charge to resolve this problem and in November December 1944 started the production of a new gun named ZIS-S-53. Altogether 11518 S-53 and 14265 ZIS-S-53 were producted during 1944-1945. The ZIS-S-53 was equally installed on the T-44.
T-34/85 1944 (85 mm S-53)
Le T-34/85 avec le S-53 ou le ZIS-S-53, était doté d'une tourelle de trois hommes avec cette fois-ci une coupole montée plus vers l'arrière. Elle était dotée aussi d'un périscope rotatif MK-4 mais le télescope panoramique PTK-5 du commandant fut retiré. Le moteur était doté de nouveaux filtres à air "Multi-Cyclone". Au sinon le reste des composants était en gros inchangé. Comme pour le T-34, des différences apparaissaient entre les productions des différentes usines au niveau des coupoles du commandant, des galets (galets emboutis ou galets fondus avec absorption interne de choc), du placement des joints de bâti, ... En janvier 1945, une nouvelle coupole avec un seul volet fut introduite et sur les exemplaires de l'usine "Krasnoye Sormovo", un des ventilateurs de tourelle fut déplacé vers le centre du toit pour fournir une meilleure ventilation.
The T-34/85 with the S-53 or the ZIS-S-53, was endowed with a turret fot three crewmen with this time a cupola mounted more towards the back. It was endowed also of a rotary periscope MK-4 but the panoramic telescope PTK-5 of the commander was withdrawn. The engine was endowed with new air-filters "Multi-Cyclone". To the otherwise the remainder of the components was unchanged wholesale. As for the T-34, differences appeared between the productions of the different factories at the level of the cupolas of the commander, road wheels (stamped eoad wheels or cast road wheels with internal absorption of shock), placement of the joints of built,... In January 1945, a new cupola with an alone shutter was introduced and on the copies of the factory "Krasnoye Sormovo", one of the fans of turret was moved towards the center of the roof to furnish a better ventilation.



Sources:
Les blindés de la Seconde Guerre Mondiale, Ed. Atlas