Tank Grotte (TG)/T-22 Medium Tank
Le bureau OKMO demanda le développement à la fois d'un char moyen et d'un char lourd. Le char moyen devait avoir un poids de 20 tonnes, une vitesse de 40 km/h un blindage entre 15 et 30 mm.
Une équipe secondée par l'ingénieur allemand Edward Grotte proposa en 1932, le prototype d'un char moyen T-22 doté d'une suspension et d'une direction pneumatique.Le T-22, qui sera surnommé Tank Grotte (TG) en l'honneur de l'ingénieur allemand. Le T-22 était un char multi-tourelles, celles-ci montées en étage. La principale était armée d'un canon de 76 mm A-19 et 3 mitrailleuses de 7.62 mm M1910 sur le pourtour. Elle était surmontée par une petite tourelle armée d'un canon de 37 mm PS-2, surmontée par une petite coupole pour le chef de char. Seule la tourelle du 37 mm pouvait pivoter. Deux mitrailleuses de 7.62 mm DT équipait les côtés de la caisse. Le moteur de 240 cv dessiné par Grotte n'était pas encore prêt lors de la période de test et il sera remplacé sur le prototype par un M-6 de 200-300 cv. Une pré-série de 50 TG pour familiariser les ouvriers russes devait suivre rapidement ces tests, la production de masse devant débuter en 1932 avec la réalisation de 2000 exemplaires.
Office OKMO required the development at the same time of a medium tank and a heavy tank. The medium tank was to have a weight of 20 tons, a speed of 40 km/h a shielding between 15 and 30 mm.
A team assisted by l' German engineer Edward Grotte proposed in 1932, the prototype of a medium tank T-22 equipped with a pneumatic steering and suspension. T-22, which will be named Tank Grotte (TG) in honor of German engineer. T-22 was a multi-turreted tank, those assembled in stage. The principal one was armed of a gun of 76 mm A-19 and 3 machine-guns of 7.62 mm M1910 on the circumference. It was surmounted by a small turret armed with a gun of 37 mm PS-2, overcome by a small cupola for the chief of tank. Only the 37 mm could swivel. Two machine-guns of 7.62 mm DT equipped the hull sides. The engine of 240 hp drawn by Grotte was not yet ready before the test period and it will be replaced on the prototype by M-6 of 200-300 hp. A preproduction of 50 TG to familiarize the Russian workmen was to follow these tests quickly, the mass production having to begin in 1932 with the realization of 2000 specimens.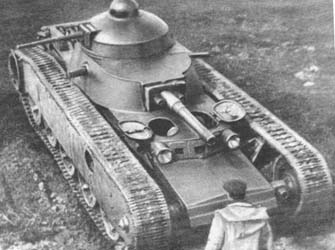 T-22
Le prototype fut testé entre le 27 juin et le 1er octobre 1931. Les organes mécaniques furent durement éprouvés par ces tests et furent jugés peu fiable. Le TG fut donc maintenu au stade de véhicule expérimentale devant être amélioré. Alors que des améliorations furent apportées, le TG ne sera cependant pas accepté pour la production car sa complexité le rendait impropre pour la production de masse en raison du niveau et de l'expérience technologique de l'industrie soviétique de l'époque. Une version lourde, le TG-3 ou T-29 ne fut jamais réalisée. En août 1933, Edward Grotte est prié de quitter la Russie. L'expérience acquise sur ce char sera cependant utile par la suite pour le programme de chars moyens soviétiques.
The prototype was tested between on June 27 and on October 1, 1931. The mechanical parts were tested hard by these tests and were considered to be not very reliable. The TG was thus maintained at the stage of vehicle experimental having to be improved. Whereas improvements were made, the TG will however not be accepted for the production because its complexity that made it unsuitable for the mass production because of the technologica level and experiment of Soviet industry of this time. A heavy version, the TG-3 or T-29 was never realized. In August 1933, Edward Grotte is requested to leave Russia. Experience gained on this tank will be however useful thereafter for the program of Soviet medium tanks.
T-22


Sources:
site WWII Vehicles
Les blindés de la Seconde Guerre Mondiale, Ed. Atlas