T-46 Fast Tank
Le T-46 est une tentative d'améliorer les chars T-26 et BT quelque peu obsolètes. Le T-26 avait une mobilité insuffisante (surtout en comparaison avec les BT). A partir de 1935, les ingénieurs russes travaillèrent donc à la réalisation d'un nouveau char léger/rapide devant remplacer le T-26. Le nouveau char pesait un peu plus que les chars BT et comme eux était convertible (marche sur roues ou sur chenilles). Cependant le T-46 était plus un version rapide du T-26 car il conservait la caisse, la tourelle et d'autres équipement de ce dernier.
The T-46 is an attempt to improve the tanks T-26 and BT somewhat obsolets. The T-26 had an insufficient mobility (especially in comparison with the BT). From 1935, the Russian engineers worked therefore to the realization of a new light/fast tank having to replace the T-26. The new tank weighed a little more than the tanks BT and as them was convertible (walks on wheels or on tracks). Nevertheless the T-46 was more a fast version of the T-26 for it preserved the hull, the turret and other equipments of the latter.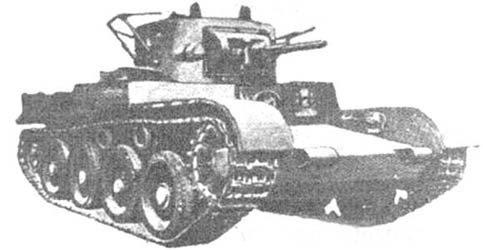 T-46
45 mm 20K armor penetration table

Penetration of an armor plate (mm)

Ammo type

Weight

Muzzle velocity m/s

Angle

100 m

500 m

1000 m

1500 m

2000 m

BR-240SP

1.43 kg

757 m/s

60°

43

36

31

28

-

90°

51

43

38

38

-
Le gros changement provenait du train de roulement qui fut remplacé par un train de roulement similaire à celui des chars BT. Mais ici, la puissance était transmise aux quatre double-galets quand le char était en marche sur roues. De plus deux rouleaux porteurs étaient installés de chaque côté alors qu'il n'y en avait pas sur les chars BT. Peu d'exemplaires furent produits et livrés aux unités et aucune production de masse ne fut lancée. La principale raison était que le T-46 était trop compliqué à produire et comme la production des chars BT continuait il était inutile de produire un char similaire au même blindage et armement. Un seul régiment utilisa des T-46 durant la Guerre d'hiver contre la Finlande en 1940.
The big change originated of running gear that was replaced by a running gear similar to the one of the tanks BT. But here, the power was transmitted to the four double-road wheels when the tank was in walk on wheels. Of more two return rollers were installed every side while it not there some had on the tanks BT. Few copies were producted and delivered to units and no mass production was launched. The principal reason was that the T-46 too was complicated to produce and as the production of the tanks BT continued it was useless to produce a similar tank to the same armor and armament. An alone regiment used the T-46 during the Winter War against the Finland in 1940.


Sources:
Les blindés de la Seconde Guerre Mondiale, Ed. Atlas