T-70 Light Tank
Afin de remplacer le T-60 peu satisfaisant, les Russes décidèrent en 1942 de réaliser un char léger armé du canon de 45 mm sur base du châssis du T-60. Ce nouveau char appelé T-70 modèle 1942 se distinguait du T-60 par un cinquième galet à sa suspension et son canon de 45 mm modèle 1938. La production débuta en mars 1942 et se termina en août 1943 avec un total de 7500 exemplaires environ fabriqués par l'usine n°37, l'usine n°38 et GAZ. Autre changement peu visible mais important, l'augmentation du blindage. Au niveau de la caisse, le blindage frontal était de 35 mm. Pour la tourelle il était de 35 mm sur toutes les parois verticales et de 60 mm pour le masque. L'augmentation du blindage occasionna une augmentation du poids qui passa à 9200 kg. Pour compenser cette augmentation, le T-70 fut équipé de deux moteurs GAZ-202 développant chacun 70 cv. Les performances du T-70 et du T-60 était fort semblables.
In order to replace the T-60 not very satisfactory, the Russians decided in 1942 to realize a light tank armed with the 45 mm gun on the basis of the chassis of the T-60. This new tank named T-70 model 1942 distinguished themselves of the T-60 by a fifth road wheel to its suspension and its canon of 45 mm model 1938. The production started in March 1942 and ended in August 1943 with a total of 7500 copies about, made by the factory n°37, the factory n°38 and GAZ. Other change not very visible but important, the increase of armor. At the level of the hull, frontal armor plates was of 35 mm. For the turret it was of 35 mm on all the vertical walls and 60 mm for the mantlet. The increase of armor caused an increase of the weight that passed to 9200 kg. To compensate this increase, the T-70 was equipped of two GAZ-202 engines developing each 70 hp. The performances of the T-70 and of the T-60 was similar strong.
T-70 mod. 1942

src: Les Blindés de la Seconde Guerre Mondiale, Ed. Atlas
T-70 Hull front

T-70 Hull rear
T-70 rear deck

T-70 Suspension
45 mm 20K (1932) armor penetration table

Penetration of an armor plate (mm)

Ammo type

Weight

Muzzle velocity m/s

Angle

100 m

500 m

1000 m

1500 m

2000 m

BR-240SP

1.43 kg

757 m/s

60°

43

36

31

28

-

90°

51

43

38

38

-
Le T-70A ou T-70 modèle 1943 était fort semblable au T-70 modèle 1942, mais l'arrière de la tourelle était plus arrondie alors que l'arrière de la tourelle du T-70 modèle 1942 présentait des arêtes renforcées sur une tourelle carrée. Le T-70A était doté de deux moteurs plus puissants, deux GAZ-203 développant chacun 85 cv. Environ 800 exemplaires furent fabriqués par l'usine n°37, l'usine n°38 et GAZ en septembre-octobre 1943.
The T-70A or T-70 model 1943 was similar strong to the T-70 model 1942, but the back of the turret was rounder while the back of the turret of the T-70 model 1942 presented the reinforced corners on a square turret. The T-70A was endowed with two more powerful engines, two GAZ-203 developing each 85 hp. About 800 copies were made by the factory n°37, the factory n°38 and GAZ in September-October 1943.
T-70


T-70 turret
Le problème du T-70, comme celui du T-60, était son équipage de 2 hommes seulement. En effet le commandant devait en plus de sa mission de commandant, effectuer celles de tireur et de chargeur pour le canon et la mitrailleuse coaxiale. Il lui était donc impossible de tirer pleinement parti de la puissance de feu de son char.
The problem of the T-70, as the one of the T-60, was its crew of 2 men only. In fact the commander in addition of his command mission, realized the one of gunner and of loader for the gun and the coaxial machine gun. It was for him therefore impossible to to use in maximum of the firepower of his tank.
T-70
Le T-70 fut utilisé comme base pour le canon automoteur SU-12 (ou SU-76) développé par les usines n°92 (Gorki) et n°38 (Kirov). La caisse fut allongée par accueillir le canon de 76.2 mm ZIS-3 dans une superstructure arrière. Il fut officiellement appelé SU-76 en décembre 1942.
The T-70 was used as bases for the self-propelled gun SU-12 (or SU-76) developed by the factories n°92 (Gorki) and n°38 (Kirov). The hull was lengthened by to accept the gun of 76.2 mm ZIS-3 in a rear superstructure. It officially was named SU-76 in December 1942.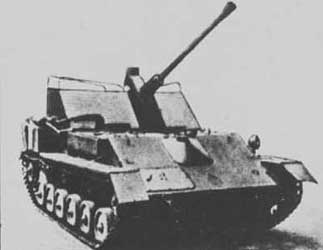 SU-37-I (SU-11) with 37 mm mod. 1939
T-90 self-propelled anti-aircraft gun

Le T-90 est un véhicule anti-aérien basé sur le T-70, armé de deux mitrailleuses jumelles de 12.7 mm DShK dans une tourelle ouverte. Cependant ce projet fut abandonné en 1943 en faveur du SU-37-I (ou SU-11) et son canon de 37 mm.
T-90 is an anti-aircraft vehicle based on T-70, armed with two twin machine-guns of 12.7 mm DShK in an open turret. However this project was abandoned in 1943 in favour of the SU-37-I (or SU-11) and its gun of 37 mm.



Sources:
Les blindés de la Seconde Guerre Mondiale, Ed. Atlas