T-50 Light Tank
Genesis
Alors que le développement du T-34 promettait un grand potentiel, les grand décideurs militaires soviétiques eurent l'idée d'un autre char de masse. Deux usines (Kirosvky et Voroshilovsky n°174) furent mises sur le projet de ce nouveau char de 14 tonnes armé d'un canon de 45 mm et protégés par un blindage similaire à celui du T-34.
En 1939 l'usine Kirosvky fut chargée de développer un char léger pour fournir un appui rapproché. En 1940, le premier prototype fut finalisé et testé et appelé Obeyt 126 ou T-126SP. Doté d'un blindage similaire au T-34, sa caisse était soudée et composée de plaques de 37 mm pour les parties verticales et de 20 mm pour les parties horizontales. Les parties frontale, latérales et arrière de la caisse avaient une inclinaison de 40-57°. Ce prototype était armé du 45 mm mod. 1932/38 approvisionné avec 150 munitions et une mitrailleuse DT de 7.62 mm. Une autre mitrailleuse DT était montée sur l'avant de la caisse. Son armement faisait de lui le plus puissant char léger/moyen soviétique de l'époque. Son moteur diesel était un V-4 développant 300 cv, ce qui permettait à ce char de 17 tonnes d'atteindre les 35 km/h. Cependant son autonomie était faible et de plus l'équipage disposait de peu de place. Un gain de place fut obtenu sur le second prototype en supprimant la mitrailleuse de caisse. Le second prototype était équipé de galets de route plus légères, avec bandages de caoutchouc.
While the development of the T-34 promised a big potential, the big Soviet military decision-makers had the idea of another tank of mass. Two factories (Kirosvky and Voroshilovsky n°174) were put on the project of this new tank of 14 tons armed with a canon of 45 mm and protected by a similar armor of the T-34.
In 1939 the factory Kirosvky was in charge to develop a light close support tank. In 1940, the first prototype was finalized and tested and called Obeyt 126 or T-126SP. Endowed with a similar armor that the T-34, its hull was welded and composed of 37 mm plates for the vertical parties and 20 mm plates for the horizontal parties. The frontal, lateral and rear parties of the hull were slopped of 40-57°. This prototype was armed of the 45 mm mod. 1932/38 supplied with 150 munitions and a machine gun DT of 7.62 mm. Another machine gun DT was mounted on the front of the hull. Its armament did to it the most powerful light/medium Soviet tank of the era. Its diesel engine was a V-4 developing 300 hp, this that allowed this tank of 17 tons to attain the 35 km/h. Nevertheless its autonomy was weak and the crew had access to few place. A place gain was obtained on the second prototype while eliminating the bow machine gun. The second prototype was equipped with lighter road wheels, with rubber tires.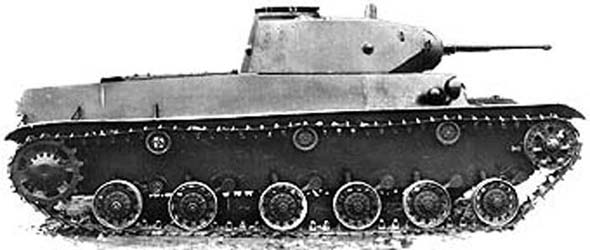 Le prototype 126 était doté d'une suspension à barres de torsion comprenant 6 galets de route en acier (chacun doté d'un amortisseur interne), une poulie de tension avant , un barbotin arrière et 3 rouleaux porteurs. Il était doté d'une transmission consistait en un embrayage principal à friction à deux disques, une boîte de vitesse à 4 rapports, des embrayages latéraux multi-disques.
Simultanément , une autre variante, le prototype 211 fut développé par l'usine LKZ. Ce prototype était doté d'une caisse soudée et d'une tourelle conique et était plus léger. L'unique prototype 211 produit fut utilisé durant la défense de Leningrad. Les deux prototypes (126 et 211) furent envoyés à des tests comparatifs et ce fut le premier qui l'emporta. Le 12 février 1941, le 126 fut accepté pour le service et la production de masse sous le nom de T-50. Ce char était destiné à être le char russe le plus produit.
The prototype 126 was endowed with a suspension of torsion bar type consisted in 6 road wheels in steel (each endow with an internal shock absorber), a front idler, a rear sprocket-wheel and 3 return rollers. It was endowed with a transmission consisted in a two-discs main friction clutch, a 4-speeds gearbox, sides clutches multi-disks.
Simultaneously, another variants, the prototype 211 was developedby the factory LKZ. This prototype was endowed with a welded hull and oa conical turret and was lighter. . The two prototypes (126 and 211) were sent to comparative tests and the first won. The only prototype 211 built was used during defense of Leningrad. February 12 1941, the 126 was accepted for the service and the mass production under the name of T-50. This tank was destined to be the more produced Russian tank.
Production
En avril 1941, le T-50 était prêt pour la production de masse. Cependant avant le début de la Grande guerre patriotique aucun T-50 ne fut produit par l'usine 174. Ce départ raté fut causé par les ennuis rencontrés au niveau du moteur diesel V-4, peu fiable et très cher. Ce problème ne fut jamais corrigé et seulement 50 exemplaires furent produits durant la second moitié de 1941. On tenta de relancer la production de masse à l'usine n°37 (Moscou) mais ce fut un échec.
In April 1941, the T-50 was ready for the mass production. Nevertheless before the beginning of the Great patriotic war no T-50 was produced by the factory 174. This spoiled departure was caused by boredoms met at the level of the diesel V-4 engine, not very reliable and very expensive. This problem never was corrected and only 50 copies were producted during the second half of 1941. One attempted to relaunch the mass production to the factory n°37 (Moscow) but this was a failure.
En août 1941, l'usine 174 fut évacuée et ré-implanté sur plusieurs sites: principalement à Omsk mais aussi à Nizhnij Tagil et Barnaul. Le 13 octobre 1941, le GOKO ordonna de construire deux nouvelles usines à Barnaul: la première pour la production du T-50 et la seconde pour la production du moteur V-4 diesel. Cependant en janvier 1942, ce projet fut supprimé. L'usine n°174 de Omsk ne manufactura que 15 exemplaires du T-50 et passa ensuite à la production du T-34.
In August 1941, the factory 174 was evacuated and re-established on several sites: principally to Omsk but also to Nizhnij Tagil and Barnaul. October 13 1941, the GOKO ordered to construct two new factories to Barnaul: the first for the production of the T-50 and the second for the production of the V-4 diesel engine. Nevertheless in January 1942, this project was cancelled. The factory n°174 of Omsk manufactured only 15 copies of the T-50 and passed next to the production of the T-34.



Sources:
Les blindés de la Seconde Guerre Mondiale, Ed. Atlas