Heavy Tanks
Prototype étrange de char réalisé en 1916. En fait il s'agit plus d'une maquette grandeur nature en métal dont l'armement est factice. Sur la photo l'avant du véhicule se trouve à gauche. Le canon principal dont on voit le tube à l'avant pourrait être un canon de 203.2 mm (8"), à moins qu'il ne s'agisse d'un tuyau déchappement. Cet engin dénommé Holt 75 ne fut cependant pas proposé par Holt ! Son origine se perd dans l'histoire.

Strange prototype of tank constructed in 1916. In fact it's more a full-scale metal model which the armament is factitious. On the photograph the front of vehicle is on the left. The principal gun which one sees the barrel in front could be a gun of 203.2 mm (8"), or perhaps an exhaust pipe. This machine named Holt 75 was however not proposed by Holt! Its origin is lost in history.
Holt 75
Au début de 1917, la C. L. Best Company proposa ce design tout aussi étrange, sans succès à la clé. Il ne fut jamais pris au sérieux par les militaires américains. Sur la photo il participe à des manoeuvres avec les Gardes nationaux californiens.
At the beginning of 1917, C.L. Best Company proposed this design quite as strange, without success also. It was never taken with serious by the American soldiers. On the photograph it takes part in operations with the Californian national Guards.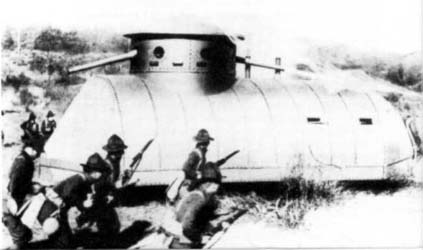 Best 75
Autre tentative malheureuse de la C. L. Best Company en 1917.
Another unhappy attempt of C.L. Best Company in 1917.
Best 75 Tracklayer
Holt 150 Ton Field Monitor, 3 Wheeled Steam Tank
Tentative curieuse de char lourd, proposée par Holt dans les années 1916-1917. Les deux énormes roues étaient mues chacune par un moteur à piston Steam de 75cv. Le monstre pesait environ le poids invraisemblable de 150t. Enfin il s'agit sûrement d'une erreur volontaire (propagande, contre-espionnage) ou non, car certaines sources font état d'un poids plus raisonnable de 15t ou 17t seulement. L'armement était constitué d'un obusier de montagne de 75 mm (2.95") monté à l'avant et de deux mitrailleuses de 12.7 mm (.50cal) montées sur affûts à rotule sur les côtés de la caisse.
Curious attempt of heavy tank, suggested by Holt in the years 1916-1917. The two enormous wheels were driven each one by a piston engine Steam of 75hp. The monster weighed approximately the incredible weight of 150t. Finally it's surely a voluntary error (propaganda, anti-spies fight) or not, because certain sources make state of a more reasonable weight of 15t or 17t only. The armament was constitued of an howitzer of mountain of 75 mm (2.95") mounted in the front and two machine-guns of 12.7 mm (.50cal) assembled on ballmounts on the sides of the hull.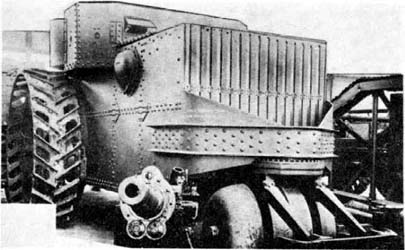 Holt 150 Ton Field Monitor, 3 Wheeled Steam Tank
Data 3 Wheeled Steam Tank
Dimensions
17000 kg - 6 - 6.78 m - 3.07 m - 3.00 m
Automotive
Twin Doble 2 cyl 75 hp steam - gasoline
Performances
8 km/h- ?
Armament

Type: 75 mm howitzer + 2 x 12.7mm (.50cal) Browning MG - Ammo: ?

Armor
7-16 mm
Les tankistes américains durant la 1re guerre mondiale furent formés en Angleterre sur des chars britanniques Mark IV. En France, le Tank Corps US était également équipé de Mark IV mais ils furent rarement utilisés au combat.
The American tank crew members during the 1st world war were trained in England on British tanks Mark IV. In France, the US Tank Corps was also equipped with Mark IV but they were seldom used in the combat.
| | |
| --- | --- |
| | |
| Mark IV Male | Mark IV Female |
| | |
Comme le Mark IV, le Mark V fut principalement utilisé pour la formation des tankistes américains en Angleterre. Cependant 12 de ces chars furent utilisés par le 301e tank battalion en France.
Like Mark IV, the Mark V was mainly used for the training of the American tank crew members in England. However 12 of these tanks were used by the 301st tank battalion in France.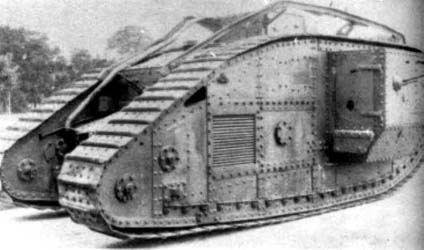 Mark V Male
Le Mark V* fut également utilisé par le le 301e tank battalion en France. Le Mark V* avait un arrière train allongé pour pouvoir accueillir des fantassins (il s'agit donc en principe d'un transport de troupe). Cependant l'absence de séparation entre le moteur et les hommes à l'intérieur et le manque de ventilation rendait l'atmosphère interne irrespirable pour des fantassins. Ces chars furent alors le plus souvent utilisés pour transporter de l'équipement et non des hommes.
The Mark V* was also used by the 301st tank battalion in France. The Mark V* had a lengthened rear to be able to accomodate infantrymen (it's thus in theory a transport of troop). However absence of separation between the engine and the men inside and the lack of ventilation returned internal atmosphere unbreathable for infantrymen. These tanks then were generally used to transport equipment and not men.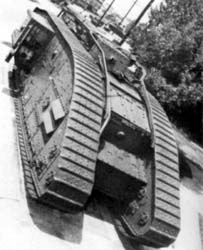 Mark V Star
US/British Mark VIII Liberty Tank Heavy Tank
Ce char lourd fut le fruit d'une coopération anglo-américaine. En été 1917 les USA décidèrent d'établir un Tank Corps pour appuyer les Alliés sur le front ouest. Les Américains jetèrent leur dévolu sur le Mark IV mais ce dernier à cette époque était seulement en phase de développement et dans un soucis de standardisation de l'équipement les Américains et les Anglais décidèrent de réaliser un nouveau char et c'est le début du développement du Mark VIII. Les Britanniques devaient produire les canons, les munitions et le blindage, les Américains devaient fournir les moteurs, les transmissions, ... Les Français furent également mis à contribution et fournirent la main-d'oeuvre (chinoise) et des espaces de fabrication. Les ingénieurs du projet provenaient de Grande-Bretagne et des USA. Le Mark VIII devait être produit à 1500 exemplaires mais les prototypes arrivèrent trop tard pour la 1re guerre mondiale. Les Français se retirèrent du projet à la fin de la guerre. Les USA qui avaient besoin de chars décidèrent de produire le char seuls et 100 exemplaires furent produits entre septembre 1918 et 1920. Le Liberty Tank était doté d'un compartiment moteur séparé du reste du char. L'équipage de ce char de 37 tonnes était de 12 hommes. Le blindage variait entre 6 et 16 mm et l'armement était composé de 2 canons de 6-pdr (57 mm) et de 7 mitrailleuses. Le moteur était soit un Ricardo essence anglais de 300 cv ou un Liberty essence américain de 300 cv. Le Liberty Tank pouvait atteindre les 10.5 km/h. Ce char resta en service dans l'US Army jusqu'en 1934.
This heavy tank was the fruit of a Anglo-American co-operation. In summer the 1917 USA decided to establish a Tank Corps to support the Allies on the western front. The Americans threw their reserved on Mark IV but this last at that time was only in phase of development and in preoccupations with a standardization of equipment the Americans and the English decided to produce a new tank and it's the beginning of the development of Mark VIII. The British were to produce the guns, the ammunition and the shielding, the Americans were to provide the engines, the transmissions,… the French were also put at contribution and provided the worker (Chinese) and spaces of manufacture. The engineers of the project came from Great Britain and the USA. Mark VIII was to be produced at 1500 specimens but the prototypes arrived too late for the 1st world war. The French withdrew project at the end of the war. The USA which needed tanks decided to produce the tank alone and 100 specimens were produced between September 1918 and 1920. Liberty Tank was equipped with an engine compartment separated from the remainder of the tank. The crew of this tank of 37 tons was of 12 men. The shielding varied between 6 and 16 mm and the armament was composed of 2 guns of 6-pdr (57 mm) and 7 machine-guns. The engine was a Ricardo English gasoline of 300 hp or one American Liberty gasoline of 338 hp. Liberty Tank could reach 10.5 km/h. This tank remained in service in l' US Army until in 1934.
Mark VIII Liberty
Mark VIII Liberty
Tentative curieuse de la Pioneer Tractor Company de réaliser un char allégé (d'aspect anglais), avec le moins de surface possible. L'équipage trouvait place dans le caisson blindé au centre du char, visible sur la photo. Ce char "squelette" ne dépassa jamais le stade de la maquette en bois (grandeur nature cependant).
Curious attempt of the Pioneer Tractor Company to produce a lightened tank (English aspect), with less possible surface. The crew found place in the armored box in the center of the tank, visible on the photograph. This "skeleton tank" never exceeded the stage of the model out of wooden (full-scale however).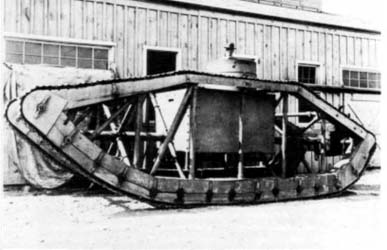 Pioneer "Skeleton" Tank
Data Skeleton
Dimensions
9000 kg - 2 - 7.62 m - 2.56 m - 2.90 m
Automotive
2 x Beaver 422ci 4cyl, 100 hp - gasoline
Performances
5 km/h - ?
Armament

Type: ever installed (1 x 7.62 mm MG) - Ammo: ?

Armor
12.7 mm
Le prototype de ce char fut offert aux Britanniques qui décidèrent d'en faire un transport blindé non armé, mais la fin de la guerre mis fin prématurèment au projet.
The prototype of this tank was offered to the British who decided to make of it an armored transport not armed, but end of the war put an end prematurely to the project.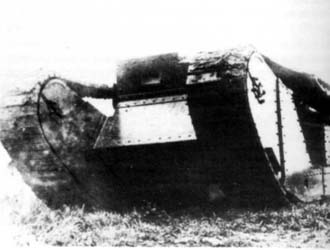 1918 Studebaker
Char anti - positions fortifiées, conçu conjointement par l'Army Corps of Engineers et la Stanley Steamer. Son armement principal était constitué d'un lance-flamme, et était complété par 4 mitrailleuses de 7.62mm (.30cal). Il était propulsé par deux moteurs au kérosène Steam 2cyl de 500cv et éventuellement un moteur essence de 35cv supplémentaire. Le prototype fut (?) envoyé en France mais la fin de la guerre ne permis pas de le tester au combat.
Tank anti-fortified positions, jointly designed by the Army Corps of Engineers and Stanley Steamer. Its principal armament was constitued of a flame-thrower, and was supplemented by 4 machine-guns of 7.62mm (.30cal). It was propelled by two kerosene Steam 2cyl engines of 500hp and possibly an additional gasoline engine of 35hp. The prototype was (?) dispatched in France but end of the war allowed not to test it in the combat.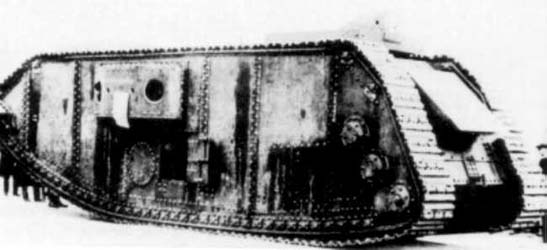 "Steam Tank, Tracklaying"
Data "Steam Tank, Tracklaying"
Dimensions
50000 kg - ? - 10.59 m - 3.81 m - 3.16 m
Propulsion
2 x steam 500ch kerosene + 1 x 35cv essence - kerosene/essence
Performances
6 km/h- Range: ?
Armement

Type: flame-thrower + 4 x 7.62 mm (.30cal) Browning MG - Ammo: ?

Blindage
12.7 mm


Les Blindés de l'Origine à 1940 - Profils et Histoire, "Connaissance de l'Histoire" hors-série n°3, Editions Hachette