Austin Armoured Cars
Austin "1st Series" Armored Car
Le développement des automitrailleuses Austin commence juste au début de la "Grande Guerre" en août 1914, quand le gouvernement de la russie tsariste décida de commander des voitures militaires et des voitures blindées. Les Russes exigèrent que les voitures blindées disposent de deux tourelles jumelles avec mitrailleuses sur une coque entièrement blindée. Un comité spécial fut envoyé en Grande-Bretagne mais les Anglais ne disposaient d'aucun véhicule répondant à ces exigences.
The development of the Austin armoured cars starts just at the beginning of the " Great War" in August 1914, when the government of tsarist Russia decided to order military cars and armoured cars. The Russians required that the armoured cars have two twin turrets with machine-guns on an entirely armoured hull. A special committee was sent in Great Britain but the English had none vehicle answering these requirements.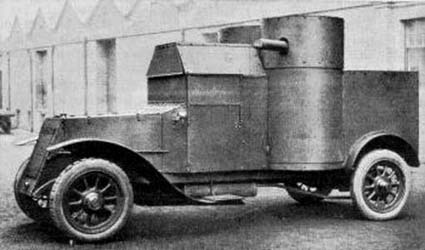 Austin 1st Series Armored Car



En septembre 1914, la firme Austin Motor Co. (Longbridge, Birmingham), réalisa une nouvelle voiture blindée sur base des exigences russes. Elle était armée de deux mitrailleuses montées sur deux tourelles indépendantes, placées côtes à côtes. Les Russes en commandèrent 48, devant être livrés pour la fin 1914. L'automitrailleuse Austin était basée sur un châssis de passenger car Colonial, avec un moteur de 30 cv et un seul axe arrière. Ce modèle fut communément appelé Austin 1st Series ou Austin model 1914. Les Russes la baptisèrent Bronyeavtomobil (voiture blindée) "Ostin". Le premier modèle avait quelques défauts comme un trop faible blindage, vulnérable aux projectiles de mitrailleuses. Le blindage des tourelles fut renforcé dès l'arrivée des véhicules en Russie. Après les premiers combats, les véhicules russes furent complètement reconstruits en remplaçant le blindage d'origine par de nouvelles plaques de 7 mm d'épaisseur à l'usine Izhorski (in Izhorsk), mais la forme de la coque resta la même. Certains exemplaires russes furent dotés de mitrailleuses latérales sur les côtés de la caisse. A cause du nouveau blindage, le moteur montra vite quelques signes de fatigue, rendant impossible l'usage du véhicule en tout terrain. Malgré ces défauts, la première voiture blindée d'Austin fut considérée comme un succès. Les véhicules utilisés et produits en Russie furent rebaptisés Austin-Putilov.
In September 1914, the firm Austin Motor Co. (Longbridge, Birmingham), realized a new armoured car on the basis of Russian requirement. It was armed with two machine-guns assembled on two independent turrets, placed sides by side. The Russians ordered 48 of them, to be delivered for the end 1914. Austin armoured car was based on a chassis of a Colonial passenger car, with an engine of 30 hp and only one back axis. This model was commonly named Austin 1st Series or Austin model 1914. The Russians baptized it Bronyeavtomobil (armoured car) " Ostin". The first model had some defects like a too weak shielding, vulnerable to the projectiles of machine-guns. The shielding of the turrets was reinforced to the arrival of the vehicles in Russia. After the first engagements, the Russian vehicles were completely rebuilt by replacing the shielding of origin by new plates of 7 mm of thickness at the Izhorski factory (at Izhorsk), but the shape of the hull remained the same one. Certain Russian specimens were equipped with side machine-guns on the sides of the hull. Because of the new shielding, the engine showed some signs of tiredness quickly, making impossible the use of the vehicle in cross-country. In spite of these defects, the first armoured car of Austin was regarded as a success. The vehicles used and products in Russia were renamed Austin-Putilov.
Austin 1st Series Data
Dimensions
2660 kg - 4 - 4.75 m - 1.95 m - 2.40 m
Propulsion
Austin, 4-cyl., 30 hp - Gasoline
Performances
50-60 km/h (on road) - 250 km (on road)
Armament

Type: 2 x 7.62mm Maxim MG - Ammo: ?

Armor
5-8 mm
Austin "2nd Series" Armored Car
En raison des imperfections du premier modèle, la Russie commanda 60 exemplaires d'un modèle amélioré, appelé Austin 2nd Series ou Model 1915, qui furent livrés en août 1915. Ce second modèle était basé sur le châssis d'un camion de 1.5 tonne avec moteur de 50 cv, et possédait un blindage plus épais. La coque était plus courte et la nouvelle forme de l'avant du toit ne limitait plus le champ de tir en azimut des tourelles. La porte d'accès arrière fut supprimée et l'accès se faisait uniquement via les portes latérales. Après leur arrivée en Russie, ces modèles furent encore modifiés en ajoutant un poste de pilotage arrière pour améliorer la manoeuvrabilité du véhicule en cas d'urgence.
Because of the imperfections of the first model, Russia ordered 60 specimens of an improved model, named Austin 2nd Series or Model 1915, which were delivered in August 1915. This second model was based on the chassis of a truck of 1.5 ton with engine of 50 hp, and had a thicker shielding. The hull was shorter and the new form of the front roof did not limit any more the field of fire in azimuth of the turrets. The rear door of access was removed and the access was possible only via the side doors. After their arrival in Russia, these models were still modified by adding a back cockpit to improve the maneuverability of the vehicle in case of urgency.
Austin 2nd Series Data
Dimensions
5300 kg - 4-5 - 4.90 m - 2.03 m - 2.45 m
Propulsion
Austin, 4-cyl., 50 hp - Gasoline
Performances
60 km/h (on road) - 200 km (on road)
Armament

Type: 2 x 7.62mm Maxim MG - Ammo: ?

Armor
5-8 mm
Austin "3rd Series" Armored Car

En août 1916, les Russes commandèrent 60 autres véhicules, connus en tant que Austin 3rd Series ou Model 1917 (?). Ce véhicule fut produit avec un poste de pilotage arrière et des boucliers pour les mitrailleuses latérales. La forme de la coque était plus mince, et les viseurs à l'avant possédaient des vitres blindées. Mais les fenêtres latérales furent supprimées. Ces véhicules furent livrés durant l'été 1917. Peu furent utilisé au front avant la révolution d'octobre. Avant cela le gouvernement russe avait commandé 70 autres exemplaires avec un châssis renforcé avec double roues arrières (Model 1918). Peu cependant furent complétés en raison des événements en Russie, et ceux là furent utilisés par l'armée britannique.
In August 1916, the Russians ordered 60 other vehicles, known as Austin 3rd Series or Model 1917 (?). This vehicle was produced with a back cockpit and shields for the side machine-guns. The shape of the hull was meaner, and the sights in front had armored panes. But the side openings were removed. These vehicles were delivered during summer 1917. Little was used in front before the revolution of October. Before that the Russian government had ordered 70 other specimens with a chassis trussed with double aft wheels (Model 1918). Little however was supplemented because of the events in Russia, and those there were used by British army.
Austin 3rd Series Armored Car (1918)
Comme précité, quelques voitures blindées Austin de 1918 furent utilisées par l'armée britannique (British Tank Corps). Seize furent envoyés en France, en mai 1918 avec le 18e Armoured Car Battalion. Elles étaient armées avec des mitrailleuses Hocthkiss Mle.14 de 8 mm. Elles connurent leur baptême du feu le 11 juin 1918 en supportant les troupes françaises. Elles participèrent notamment à la bataille d'Amiens le 8 août. Pour franchir les tranchées, elles étaient remorquées par des chars. Seulement trois furent perdues durant cette campagne. Les automitrailleuses Austin n'hésitait pas à opérer loin derrière les lignes allemandes. Vingt automitrailleuses Austin furent envoyés sur la mer Caspienne ne février 1918 avec la Dunsterforce pour protéger les puits de pétrole de Bakou contre les forces turques. A cette fin, elles opèrent conjointement avec les forces russes blanches et parfois rouges !
Like above mentioned, some Austin armoured cars of 1918 were used by ritish army (British Tank Corps). Sixteen were sent in France, in May 1918 with 18th Armoured Cars Battalion. They were armed with machine-guns Hocthkiss Mod.14 of 8 mm. They knew their baptism of fire on June 11, 1918 by supporting the French troops. They took part to the battle of Amiens on August 8. To cross the trenches, they were towed by tanks. Only three were lost during this campaign. The armoured cars Austin did not hesitate to operate far behind the German lines. Twenty Austin armoured cars were sent on the Caspian Sea February 1918 with Dunsterforce to protect the oil wells from Bakou against the Turkish forces. For this purpose, they operate jointly with the white Russian forces and sometimes reds!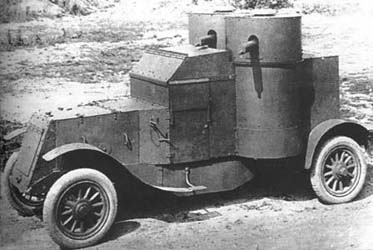 Austin 3rd Series Armored Car
Après la guerre, les automitrailleuses Austin britanniques furent utilisés durant la guerre civile d'Irlande, jusqu'en 1921. Environ 16 véhicules furent également envoyés en Inde et furent utilisés par la 8th Armored Car Company du Tank Corps jusqu'en 1923.
After the war, the British Austin armoured cars were used during the civil war of Ireland, until 1921. Approximately 16 vehicles were also sent in India and were used by the 8th Armoured Cars Company of the Tank Corps until in 1923.
Austin 3rd Series Data
Dimensions
5300 kg - 4-5 - 4.90 m - 2.03 m - 2.45 m
Propulsion
: Austin, 4-cyl., 50 hp - Gasoline
Performances
60 km/h (on road) - 200 km (on road)
Armament

Type: 2 x 8mm Hotchkiss Mle.14 MG - Ammo: ?

Armor
5-8 mm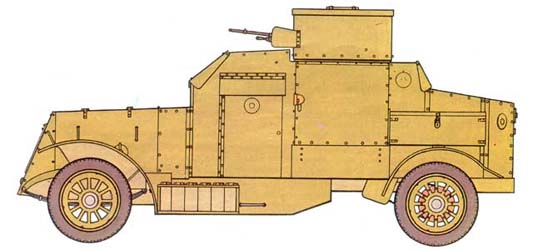 Austin 3rd Series Armored Car
src: Les blindés des origines à 1940, Connaissance de l'Histoire HS n°3, Ed. Hachette


Les Blindés de la Seconde Guerre Mondiale, Ed. Atlas

Encyclopédie des Blindés, Ed. Elsevier Séquoia