Gun Carrier Mark I
Le Gun Carrier Mark I fut le premier exemple d'artillerie blindée automotrice de l'histoire. Ce fut le Major Gregg qui proposa de réaliser un canon automoteur à partir d'éléments du char Mark I, pour fournir un appui feu direct et mobile à l'infanterie. La réalisation d'un prototype fut acceptée le 5 juin 1916 et l'étude de ce nouveau blindé débuta en juillet. Le premier prototype participa au Tank Trials à Oldbury le 3 mars 1917 et une commande de 50 exemplaires fut passée avec Kitson & Co. L'armée britannique prendra livraison de ses véhicules (nommés désormais Gun Carriers Mark I) à partir de juin 1917, jusqu'en juillet de la même année.
Gun Carrier Mark I was the first example of armored motorized artillery of history. It was Major Gregg who proposed to produce a self-propelled gun from elements of the tank Mark I, to provide a direct and mobile fire support to infantry. The realization of a prototype was accepted on June 5, 1916 and the study of this new tank began in July. The first prototype took part in the Tank Trials at Oldbury on March 3, 1917 and an order of 50 specimens had placed at Kitson & Co. British army will take delivery of its vehicles (named from now Gun Carriers Mark I) as from June 1917, until in July of the same year.

Bien qu'incluant plusieurs éléments du char Mark I, le Gun Carrier ne lui ressemblait guère cependant. Les chenilles n'enveloppaient plus les côtés de l'engin. En effet les parties supérieurs étaient situées beaucoup plus bas. Les éléments du train de roulement (sans suspension) étaient cependant toujours protégés par une imposante parois blindée, de chaque côté. L'espace situé au dessus des chenilles accueillaient le poste de pilotage, le poste de combat, et le compartiment moteur. Ce dernier située à l'arrière était protégé par une imposante superstructure rectangulaire (elle couvrait les chenilles sur sa largeur et sa longueur faisait à peu près la moitié de celle du Gun Carrier) qui couvrait un moteur Daimler de 105 cv et la transmission (la même que pour le char Mk.I, disposée cependant de façon inverse) et les autres éléments du groupe propulseur. Le compartiment moteur accueillait également le commandant de bord, un mécanicien et deux machinistes. A l'arrière, l'espèce de gouvernail sur roues du char Mark I sensé aider à manoeuvrer le véhicule fut conservé.
Well that including several elements of the tank Mark I, Gun Carrier hardly resembled to it however. The tracks didn' wrapped the sides of the hull. Indeed the superiors parts were located much low. The elements of the running-gear (without suspension) were however always protected by imposing armored plate, on each side. The space located at the top of the tracks accomodated the cockpit, the station of combat, and the engine compartment. This last located at the back was protected by an imposing rectangular superstructure (it covered the tracks over its width and its length made about half of that of Gun Carrier) which covered a Daimler engine of 105 hp and the transmission (the same one as for the Mk.I tank, laid out however in an opposite way) and other elements of the power plant. The engine compartment also accomodated the commander, a mechanic and two machinists. At the back, the wheeled tail-rudder of Tank Mark I to help to drive the vehicle was preserved.
Gun Carrier Mk.I
Devant le compartiment moteur se trouvait un espace ouvert qui accueillait l'obusier qui constituait le principal armement du char. Il s'agissait d'un obusier de 60-pounder BL Mark I (5-inch, 127mm) ou de 6-inch BL (152 mm). L'obusier standard était tout simplement installé sans ses roues dans le compartiment de combat sans autres modifications. Les roues de l'obusier étaient transportées sur les côtés du véhicule, ce qui permettait en cas échéans de reconstituer l'arme et de l'utiliser indépendament du Carrier comme une pièce d'artillerie standard. Une potence située sur le toit du compartiment moteur fut installée à cet effet.
A l'avant du Gun Carrier, le tube de l'obusier était flanqué de chaque côté de deux cabines blindées accueillant pour celle de gauche le pilote (disposant d'un volant de direction), et pour celle de droite le préposé aux freins (disposant de leviers). Vous vous en doutez la communication ne devait pas être évidente entre ces deux hommes. Cela posait un problème important car le pilote, le préposé aux freins, mais aussi les deux machinistes à l'arrière étaient nécessaires pour manoeuvrer le char!

In front of the engine compartment was an open space which accomodated the howitzer which constituted the principal armament of the tank. It s' acted an howitzer of 60-pounder BL Mark I (5-inch, 127mm) or 6-inch BL (152 mm). The standard howitzer was quite simply installed without its wheels in the compartment of combat without other modifications. Wheels of l' howitzer were transferred onto the sides of the vehicle, which made it possible if need to reconstitute the weapon and to use independently of the Carrier like a' standard artillery piece. An bracket located on the roof of the engine compartment was installed for this purpose.
In front of the Gun Carrier, howitzer barrel was flanked on each side of two armored cabins accomodating for that of left the driver (lhaving a steering wheel), and that of right the employee of the brakes (having levers). You suspect it the communication was not to be obvious between these two men. That posed an important problem because the driver, the employee of the brakes, but also the two machinists at the back were necessary to operate the tank!
Data Gun Carrier Mk.I
Dimensions
25400 kg - 6 + gunners - 9.10-10.80 m - 3.40 m - 2.85 m
Automotive
Daimler 165204, 4 cyl., 105 hp - Gasoline (?L)
Performances
6 km/h (road) - ? km (road)
Armament

Type: 1 x 5-inch (127mm) howitzer or 1 x 6-inch (152mm) howitzer & 1 x 7.7mm MG - Ammo: 64

Armor
? mm
Si 50 exemplaires du Gun Carrier Mark I furent produits, seulement 48 furent utilisés comme canons automoteurs. En effet deux véhicules furent convertis en véhicules blindés de récupération. Une imposante grue montée sur une plate-forme et munie d'un puissant treuil remplaçait l'obusier et les cabines blindées étaient supprimées.
If 50 specimens of Gun Carrier Mark I were produced, only 48 were used as self-propelled guns. Indeed two vehicles were converted into armored vehicles of recovery. An imposing crane assembled on a platform and provided with a powerful winch replaced the howitzer and the armored cabins were removed.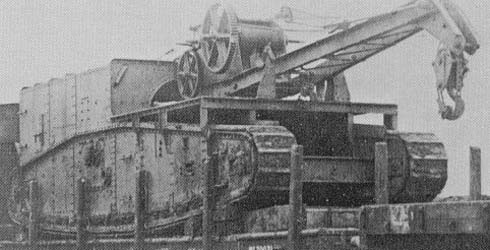 ARV Conversion (Armored Recovery Vehicle)
En avril 1917, une maquette en bois d'un hypotétique remplacant du Mark I, le Gun Carrier Mark II fut réalisée. L'armement était sur cette maquette disposée à l'arrière. La construction d'un prototype fut bien entamée mais ne fut jamais finallisée.
In April 1917, a model of wood of hypotetic replacing Mark I, Gun Carrier Mark II was realized. The armament was on this model was mounted at the back. Construction of a prototype was well started but was never finalized.
En juillet 1917, les Britanniques formèrent deux companies de 24 Gun Carriers chacune. Ces véhicules furent conçus à l'origine pour protéger l'infanterie lors de l'exploitation des futur percées reélisées par les chars dans le front ennemi. Cependant ces percées ne furent jamais une réalité du combat et les Gun Carriers ne purent que très (très) rarement être utilisés comme canon automoteur et de nuit le plus souvent. En fait seul l'obusier de 6-inch (152mm) pouvait en pratique faire feu depuis le véhicule ! Ils furent en fait principallement utilisés comme véhicules de ravitaillement en munitions pour l'artillerie britannique ou encore comme tranport de matériel et de troupes. Un seul Carrier pouvait en effet transporter (sans son armement) la même charge que 291 porteurs humains, plus vite et dans de meilleurs conditions!
In July 1917, the British formed two companies of 24 Gun Carriers each one. These vehicles were conceveid at the origin to protect infantry at the time of the exploitation of future breaktrhough reelized by the tanks in the enemy front. However these breaktrhough were never a reality of the combat and Gun Carriers could only very (very) seldom be used as self-propelled gun and of night generally. In fact alone howitzer of 6-inch (152mm) could in practice make fire since the vehicle! They in fact were mainly used as ammo carriuers for British artillery or like troops and supply carriers. Only one Carrier could indeed transport (without its armament) the same load as 291 human carriers, more quickly and under better conditions!
Gun Carrier Mk.I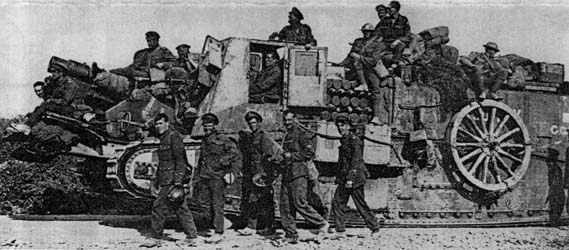 Gun Carrier Mk.I, transport de muntions ou veritable canon automoteur?
Gun Carrier Mk.I , ammo carriers or genuine self-propelled gun?