Pour réaliser ces dessins, tout commence par un travail de documentation. Les documents recherchés sont des vues latérales, frontales, arrières et du dessus. Les sources sont diverses: plans de montage de maquettes, livres, dessins sur Internet, ... Si vous avez de tel documents n'hésitez pas à me les transmettre !
Torealize these drawings, all starts with a work of documentation. The required documents are side, frontal, rear and top views. The sources are varied: plans of assembly of models, books, drawings on Internet... If you have of such documents do not hesitate to transmit them to me!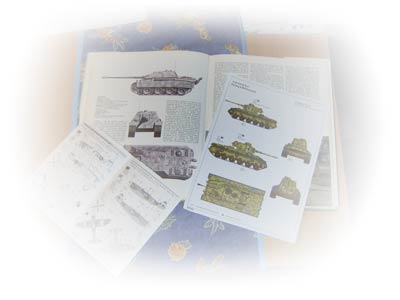 Après le scannage des documents trouvés, je réalise les tracés (modifiables) avec le logiciel Adobe Illustrator. Il s'agit de tracés sans fond, donc facile à mettre en couleur.
After the scan of the found documents, I realize the layouts (modifiable) with the software Adobe Illustrator. They are layouts bottomless, therefore easy to put color.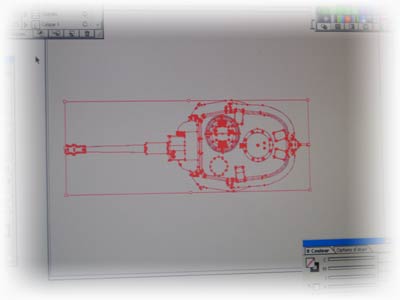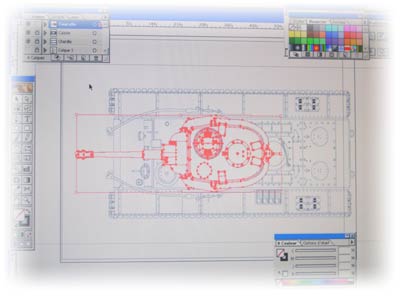 Ensuite dans le logiciel Adobe Photoshop, je procède à la mise en couleur, je travaille le relief, les textures,...
Then in the software Adobe Photoshop, I proceed to the colour application, I work the relief, textures,...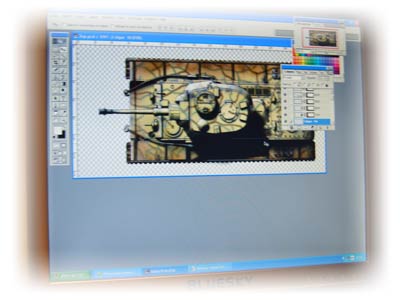 Et c'est presque fini. Il ne reste plus qu'à faire la mise en page générale dans Macromedia Dreamweaver et publier les images sur Internet.
And it is almost finished. The last stage is the general page-setting in Macromedia Dreamweaver and to publish the pictures on Internet.

---